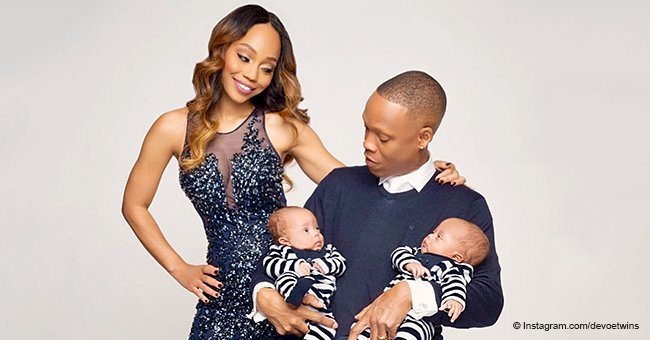 Shamari DeVoe reveals she had major complications while carrying twins & almost lost her oldest son

Shamari DeVoe and her husband, Ronnie DeVoe welcomed their twins last year, but the former Blaque singer has now revealed that all was not well during the pregnancy, and she had to disagree with her doctor for a good reason.
Shamari and her New Edition/Bell Biv DeVoe singer husband have been married since 2006 but had their twin sons 11 years later in 2017. According to Shamari, the road to birthing Ronald and Roman was not the easiest, and she almost lost the older twin.
The latest "Real Housewives Of Atlanta" star told Hello Beautiful "my oldest son, he wasn't growing as fast as his [brother]" but even though she felt something was wrong with her cervix and told the doctor to check, he ignored her at first.
"I told him and at one point he was like, 'Your cervix is fine,' And then I was like, 'No, I want you to check it.' And he checked it and he was like, 'Oh my God, it really is opening.' I had to go in once every two weeks and then, finally, one doctor visit, they were like, 'Oh no, you have to go straight to the hospital and be on bed rest for the duration of your pregnancy.'"
Fortunately for Shamari, she had a supportive family that always made sure to check in on her and brighten her mood. Her husband, Ronnie, was also a pillar of support during the period.
"My husband was so supportive," Shamari acknowledged. "He was there every single night, and if he was not there in the hospital room with me it was, it was because he was on tour on the road and that's the only reason."
Bed rest orders notwithstanding, the 38-year-old mom had a maternity shoot right there in her hospital room and shared the results on Instagram.
Shamari recently revealed on RHOA that she and her husband experimented with an open marriage for about a year before they eventually went to counseling to sort out their marital problems. The advice worked apparently because according to the "Love Comes Through" singer, "we have an unbreakable bond."
Meanwhile, the DeVoes celebrated their twins' 1st birthday earlier in July with a fun royalty-themed party attended by family and friends. In August, Shamari also shared a photo of Ronald and Roman already walking around the house.
Good to see everything turned out fine!
Please fill in your e-mail so we can share with you our top stories!