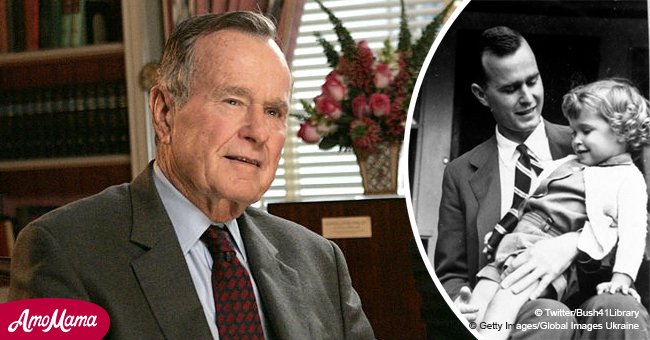 George HW Bush's tearful letter he wrote 5 years after his daughter died of cancer released

A heartbreaking letter George H. W. Bush wrote about his deceased daughter, Robin, has been revealed.
On November 6, 2018, the mortal remains of President George H. W. Bush will be transported by train to the Texas A&M University in College Station, home to the George Bush Presidential Library and Museum.
There George H.W. Bush will be laid to rest beside his wife, Barbara Bush, and his daughter Robin, who died of leukemia at the age of 3 in 1953.
A touching letter Bush wrote 5 years after Robin's death convey's the former President's enduring grief and his longing to be reunited with his little girl was posted on Twitter by the Bush Foundation on December 1, 2018, one day after his death at the age of 94.
"There is about our house a need. (...) We need some starched crisp frocks to go with all our torn-kneed blue jeans and helmets. We need some soft blonde hair to offset those crew cuts. We need a dollhouse to stand firm against our forts."
George H.W. Bush, Twitter/ Bush Foundation, December 1, 2018,
A MOVING LETTER READ BY HIS GRANDDAUGHTER
The post consists of a moving video of Robin Bush's short life, overlaid with the voice-over of George W. Bush's daughter Barbara, reading her grandfather's letter to his mother regarding Robin's death.
Throughout the letter runs the deep love of a dedicated father and his longing for his tiny daughter. The pain and the sadness are balanced with tender remembrance and faith.
A touching letter Bush wrote 5 years after Robin's death convey's the former President's enduring grief and his longing to be reunited with his little girl
THE BUSH FAMILY CHERISHED ROBIN AS A LIVING PRESENCE
Robin was the Bush family's fourth child and the at that time, the only girl. She was a sweet gentle offset to a crew of boisterous boys and their rough-and-tumble, with what Bush described in his letter as "a certain softness."
Her death was a vicious blow to the young family, and until his death, Bush never stopped believing Robin was close to him:
"[I like] to think of Robin as though she were a part, a living part, of our vital and energetic and wonderful family of men and Bar[bara]"
THE DYING PRESIDENT LONGED FOR A REUNION WITH HIS LONG-LOST DAUGHTER
Bush would express his longing to be reunited with Robin to his granddaughter Jenna, Barbara Bush's twin.
Jenna Bush Hager shared a touching conversation she had with her grandfather shortly before his death. Bush confided that he no longer feared death, but looked forward to his reunion with his mother and Robin:
"I hope I see Robin, and I hope I see my mom. I haven't yet figured it out if it will be Robin as the three-year-old that she was, this kind of chubby, vivacious child or if she'll come as a middle-aged woman."
Jenna posted a cartoon Marshall Ramsey created which illustrates the former President fondest wish, entering Heaven and being reunited with his wife Barbara and their daughter Robin.
Read more on Twitter Amomama USA.
ANOTHER MOVING LETTER BY GEORGE H. W. BUSH
At the time of Barbara Bush's passing in April 2018, it was revealed that a love letter handwritten by former President George H. W. Bush to his then-fiancee Barbara Pierce is housed at the George H.W. Bush Library and Museum in College Station, Texas.
The letter, dated December 12, 1943, expressed Bush's love for Barbara and all his hopes for their future together.
"My darling Bar,

This should be a very easy letter to write — words should come easily and in short, it should be simple for me to tell you how desperately happy I was to open the paper and see the announcement of our engagement, but somehow I can't possibly say all in a letter I should like to.

I love you, precious, with all my heart and to know that you love me means my life. How often I have thought about the immeasurable joy that will be ours some day. How lucky our children will be to have a mother like you."
The future Presidential couple was married on January 6, 1945, in Rye, New York. They shared six children, George, Robin, Jeb, Neil, Marvin, and Dorothy.
The couple had the longest-lasting marriage in presidential history – 73 years - until Barbara Bush's death on April 17, 2018, at the age of 92.
Please fill in your e-mail so we can share with you our top stories!