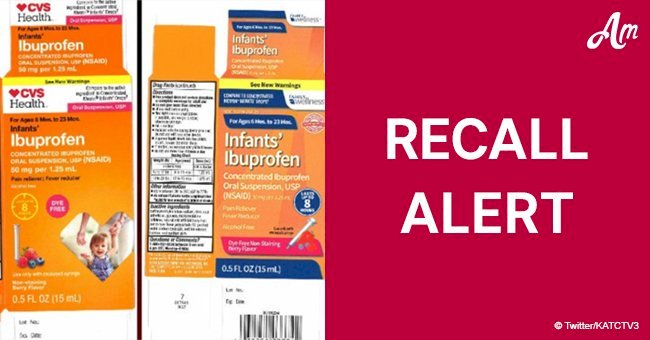 Infant liquid ibuprofen sold at Walmart, CVS, and Family Dollar is being recalled
Recall on three lots of Infants' Ibuprofen Concentrated Oral Suspension.
Tris Pharma issued a voluntary recall on three lots of infant liquid ibuprofen currently sold at Walmart, Family Dollar and CVS.Recent reports indicate the products may contain higher concentrations of ibuprofen; these products are used as fever reducers and pain relievers.
Effects on infants who are more susceptible to a higher potency level could be vulnerable to permanent NSAID-associated renal injury. It can also cause infants to suffer from nausea, epigastric pain, vomiting, or diarrhea with symptoms like a headache, tinnitus, and gastrointestinal bleeding being possible side effects.
The recall has been issued for the following 0.5-ounce bottles:
Equate: Infants' Ibuprofen Concentrated Oral Suspension, USP (NSAID), 50 mg per 1.25 mL, 0.5 oz. bottle
Sold at Wal-Mart Stores Inc.
NDC: 49035-125-23
Lots: 00717009A, 00717015A, 00717024A
Expiration dates: 02/19, 04/19, 08/19
Read more on our Twitter account @amomama_usa.
CVS Health: Infants' Ibuprofen Concentrated Oral Suspension, USP (NSAID), 50 mg per 1.25 mL, 0.5 oz. bottle
Sold at CVS Pharmacy
NDC: 59779-925-23
Lot: 00717024A
Expiration date: 08/19
Family Wellness: Infants' Ibuprofen Concentrated Oral Suspension, USP (NSAID), 50 mg per 1.25 mL, 0.5 oz. bottle
Sold at Family Dollar
NDC: 55319-250-23
Lot: 00717024A
Expiration date: 08/19
No complaints have been received according to the company and ask those who experience any problems regarding the products related to the recall should see their doctor. Tris Pharma can be contacted on (732) 940-0358 with any questions regarding the recall products.
Another recall got issued, but not for any pharmaceutical products, but on food. JBS Tolleson, Inc. issued an expansion recall after the first one in October 2018, and for the same reason. They are recalling over 5.1 million pounds of raw beef products that may be tainted by salmonella.
According to the FSIS, the beef got produced and packaged between July 26 and September 7. In total, over 12 million pounds of "non-intact raw beef products" already got recalled and is linked to an outbreak of salmonella that already caused 246 people to become ill in 25 states.
Products on recall had been distributed throughout the country and include brands like Cedar River Farms, Kroger, Grass Run Farms and JBS generic.
56 people have been hospitalized to date but no deaths have been reported. Salmonella symptoms usually set in 12 to 72 hours after consuming the contaminated food.
These symptoms can include fever, abdominal cramps, diarrhea and can last between four to seven days. Generally, hospitalization is not required, but people who experience persistent diarrhea may need to be hospitalized.
The FDA recently issued another expansion recall on dog food. Dog owners are being asked to check the labels on their dog's dry food. Several dogs have exhibited signs of poisoning due to toxic levels of vitamin D found in several brands of dry food.
Recalled dry dog food products include:
NutriscaChicken and Chickpea Dry Dog Food
Natural Life Pet ProductsChicken & Potato Dry Dog Food
Sunshine Mills, Inc.Evolve Chicken & Rice Puppy Dry Dog Food
Sportsman's Pride Large Breed Puppy Dry Dog Food
Triumph Chicken & Rice Recipe Dry Dog Food
ANF, Inc.ANF Lamb and Rice Dry Dog Food
Lidl (Orlando brand)Orlando Grain-Free Chicken & Chickpea Superfood Recipe Dog Food
Kroger Abound Chicken and Brown Rice Recipe Dog Food
ELM Pet Foods, Inc.ELM Chicken and Chickpea Recipe
ELM K9 Naturals Chicken Recipe
Ahold DelhaizeNature's Promise Chicken & Brown Rice Dog Food
Nature's Place Real Country Chicken and Brown Rice Dog Food
A complete list of the products can be found on the FDA website.
The FDA also encourages consumers to return the products to the retailers where they bought them for a refund and asks retailers to make said products available for testing.
Please fill in your e-mail so we can share with you our top stories!