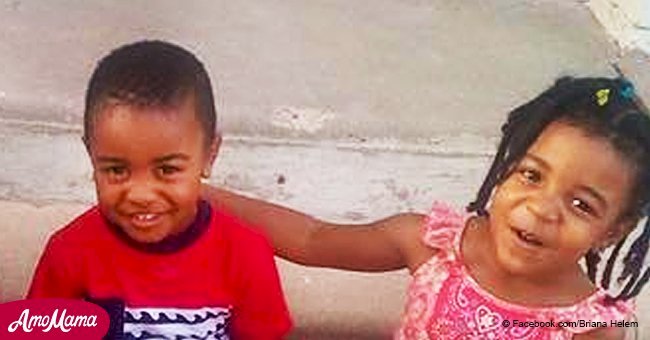 4-year-old Indiana girl dies after being shot in the head by her 3-year-old brother
Tragedy struck when a three-year-old boy accidentally shot his sister in the head in Indiana at his grandmother's house.
With both their parents at work, 4-year-old Izabella Marie Helem and her 3-year-old brother Isaiah stayed with their grandmother at her home in Lebanon, Indiana.
On November 29, Isaiah came across a firearm and accidentally shot his sister Izabella in the head just before 10 am. Five days after being on life support the doctors told Briana that Izabella's brain activity could not sustain life.
They made the heartbreaking decision to take little Izabella off life support and donate her organs, which will go on to help eight other children.
The Prosecutors are yet to decide whether charges will be pursued while police continue to investigate the incident. Briana, also an active member of the United States Army spoke out about the negative turn the media took and said:
"The national news has called my mother reckless and careless. They are blaming her for our daughter's death. Other sources have portrayed us as irresponsible parents. I would like people to know a few things about our family. My mom is not a bad person; she is not reckless or careless."
Pointing out another perspective Briana continued:
"She loves our kids so much. This is devastating for her also. Our son is 3-years-old. We are working to provide him with counseling. We need to help find a way for him to heal. This is a tragedy for some people, but it is our worst nightmare as parents. We love all our children."
Izabella Marie Helem will be buried at a local church on Saturday.
On November 14, a strikingly similar incident occurred when 2-year-old Ke'Anthony Jelks from Birmingham, Alabama found his fathers gun and accidentally shot himself in the face, around 10 am.
Authorities are investigating although there was no evidence found at the time to prove the toddler did indeed shoot himself in the face. His father's gun was legal and one he carried on night shift duty. According to the 2-year old's grandmother, his father had just got home after work and "probably left the gun somewhere."
Sadly these incidents are becoming more common, as another similar event took place on October 25 when a 3-year-old boy accidentally shot himself with a firearm.
The child, whose name had not been released got hold of a semi-automatic gun while under the adult supervision of a babysitter.The child's father helped someone lay flooring inside their home in Logansport, Indiana when the shot went off.
The toddler got airlifted to a hospital, and it is unclear where on his body the boy shot himself or who the owner of the weapon is.
Please fill in your e-mail so we can share with you our top stories!