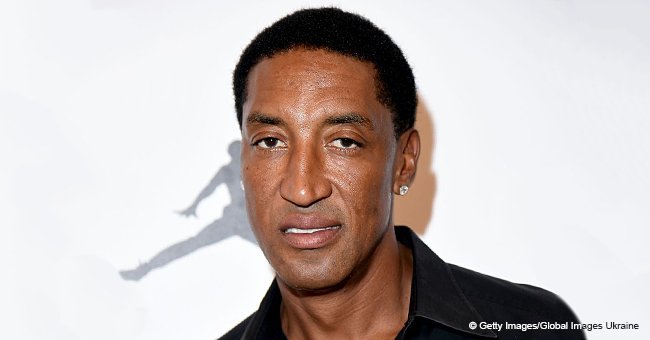 NBA legend Scottie Pippen sues comedian for allegedly trashing his mansion

Scottie Pippen is enraged at a comedian who leased his home and left it in shambles. The NBA legend has filed a lawsuit to claim for damages as the comedian mocks his allegations.
Scottie Pippen had a tenant from hell and is now seeking payback.
According to Pippen's court documents obtained by The Blast, Lindsay Glazer Woloshin and her husband rented his Fort Lauderdale mansion for $30,000 a month last year after their home was damaged by Hurricane Irma. The couple was also required to secure a $1 million renter's insurance policy as part of the arrangement.
However, when the couple turned over the house back to Pippen, the basketball star discovered his home had been trashed with over $100,000 in damages. Pippen provided a list describing how the Woloshins maltreated his home. He cited a damages in his front gate, his entertainment system, cabinets and drawers. He also took offense when the couple allowed "domestic animals" to urinate inside the house and left his home infected with insects. Pippen accused them too of late payments in rent and utilities and failure to obtain a renter's insurance. He also discovered some of his household items had been stolen, including a Cuisinart knife.
Woloshin, who's a criminal lawyer turned comedian, seemed to be taking Pippen's lawsuit lightly when she responded by mocking the charges. She claimed inaccuracies in Pippen's documents including how he identified her as related to the Glazer family who owns NFL team Tampa Bay Buccaneers as well as the Manchester United soccer club. She also did not claim responsibility for the damages inflicted on Pippen's home.
As for the missing knives, she said she would launch a $14 GoFundMe campaign to replace them. She detailed this in a press release on her website
"One of the crimes alleged in the suit, which is purported to have occurred at the Pippen residence, is the suspected theft of Cuisinart cutlery. A quick Google search reveals that a set can be purchased in assorted colors as a 12-pack on Amazon for $13.83.

"Making the list of the most financially irresponsible players in NBA history is no easy feat, so we're turning to the public to help him out in these trying times. While we're not responsible for the alleged damage and missing items he and his attorneys claim, we want to raise the whole $13.83 by turning to Mr. Pippen's fans."
Pippen's Fort Lauderdale property is a 13,500 square-foot residence with a waterfront. According to Curbed, it has been in and out of the market for eight years. He purchased the property in 2000 for $1.34 million and was valued under $15 million in 2007 when it was initially listed. Pippen tried to sell it for $12.5 million in 2016 along with a 55-foot Van Dutch yacht. Last year, it was selling for only $10.9 million. He sought tenants while the home remained unsold.
Pippen is currently in the middle of divorce proceedings. His wife of 19 years, Larsa Pippen filed for one last month. According to Larsa, who broke her silence about the divorce on her Instagram stories, Pippen's constant absence was the reason she left him.
"He was nowhere around. I cried oceans after him. I would do anything for him. Ppl saying I'm a gold digger is insane I don't care about money I've had it my whole life. I spend my bday, New Year's Eve, Times when I needed him alone. At some point I decided I had to live my truth and here I am"
Pippen originally filed for divorce from Larsa in 2016 but the couple seemed to have worked things out then. Now it was Larsa's turn to cave in and it seems this time it's final.
Please fill in your e-mail so we can share with you our top stories!