Pregnant teacher believed to have lost her job due to being unmarried
Naiad Reich, a school teacher, said she was fired from the Catholic school where she had taught for four years after her employers learned that she was expecting a baby despite not being married.
On November 30, 31-year-old Reich was fired from the Our Lady of Lourdes Regional School in Edgewood, Pennsylvania, and she claims that the decision was made over her not having no plans to marry any time soon, as ABC reported.
Reich told the news outlet that she and her longtime boyfriend had planned the pregnancy as they felt ready to start their own family, but marriage is not a priority for the couple, and they definitely don't think it is their obligation to marry.
According to the mother-to-be, she told the news of her pregnancy to school administrator Sister Mary Anne Bednar earlier that week, and she commented that "it would be a problem." Read more on our Twitter account @amomama_usa
The Diocese of Harrisburg reportedly decided to fire Naiad Reich over issues of morality — months after it was accused of covering up decades of child abuse. https://t.co/zBI7ELOAIS

— HuffPost (@HuffPost) December 5, 2018
"I feel like I'm a rewriting of 'The Scarlet Letter' at this point, just minus the affair," Reich said of the situation, as she feels stigmatized for a matter that should only be important to her and her 32-year-old partner Matt Grabowski.
Bednar has refused to comment on the decision, and the Roman Catholic Diocese of Harrisburg, of which the school Reich used to work for is part, supports her.
The diocese issued a statement on which they explain that they are not in a position to comment on personnel matters from legal reasons, but as Reich revealed, they list "immorality" as a cause for dismissal, and she believes this is the reason for them to remove her from her job.
Catholic school teacher Naiad Reich fired because she's pregnant and unmarried https://t.co/ShgJyo36ig pic.twitter.com/anNbdhsZSX

— Law & Crime (@lawcrimenews) December 5, 2018
Different news outlets have tried to contact the diocese to clarify what they define as "immorality" to no avail.
Reich plans to appeal the school's decision, but she doesn't know whether she is going to go as far as hiring a lawyer to take further action. Meanwhile, she said to miss her students "more than I think they can ever understand."
FIRED FOR BEING GAY
It is not the first time when it has surfaced that someone has been fired from a teaching position over private matters.

Michael Griffin, an openly gay teacher who also worked at a Catholic institution for 12 years, accused the Holy Ghost Preparatory School in Bensalem, Pennsylvania, right after he applied for a license for a same-sex marriage.

Griffin graduated from that very same school before becoming one of its teachers, and he used to teach French and Spanish. Now he can't believe that his long story with the school is over because of what he chooses to do in his love life.

"I really didn't think that it would happen. At our school, we talk about it's a community? Our motto is 'One heart, one mind," Griffin told ABC.

RACIAL INSULTS
While the decision to marry whomever one wants or not to marry at all only affects each individual, there are actions that actually hurt others and deprive them of their rights.

On these occasions, we understand that it is necessary to take measures to prevent offensive and abusive people to keep their jobs, especially when they are supposed to serve the public without distinction.
Early in November, an African-American employee of a Miami Burger King started a racially motivated verbal attack against a couple of Latino customers in an event that was caught on video and turned viral.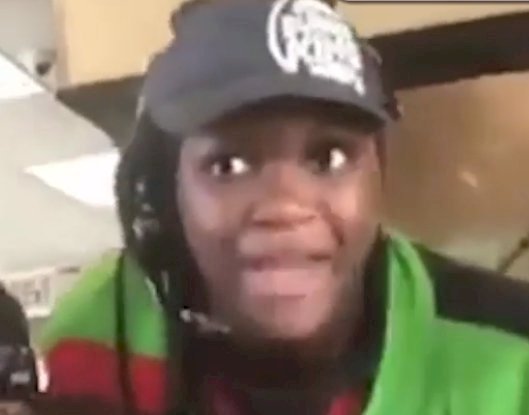 As a result, the fast-food chain worker was reportedly fired over the incident, which unfolded after one of the clients asked for a change in his order.
The video was broadcast on the Facebook page "Only in Dade", which refers to the county where a few months ago these types of racist incidents have become popular.