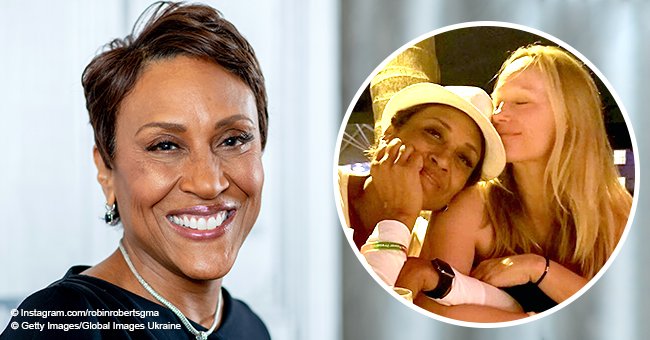 Openly gay Robin Roberts is all smiles in sweet photo with her rarely seen longtime partner

"Good Morning America" host Robin Roberts shared a new photo alongside her longtime girlfriend Amber Laign on Instagram recently, and fans gushed about how strong their relationship has been through the years.
Photographed leaning on her girlfriend's shoulder in a sweet picture, Roberts donned a long-sleeved white t-shirt and a white hat, while Laign sported a black t-shirt. Clearly at home with one another, Laign closed her eyes as she rested her face on Robin's head.
Captioning the sweet photo, the host said:
"No matter where you were or who you were with this holiday weekend...hope it left you feeling like this...absolutely and totally loved. Bless you sweet Amber and blissful Key West for my #MondayMotivation."
Fans were delighted to see yet another update from the lovely couple, and they made sure to shower them with the nicest comments as they believe they set such a good example for people in the marginalized LGBTQ community. Despite all the criticism that often comes with being a part of the LGBTQ community, Amber and Robin have stood firm in their sexuality, and have been proud of who they are. This is something that inspires people to do the same, as there really isn't anything to be ashamed of.
"@robinrobertsgma both Amber and your smiles are amazing, and so beautiful that you guys are glowing. Happy Holidays, and Many Blessings to both of you." - @allenbrendal
"Thank you for showing us what true love is. You both are amazing women. Blessings to you always!" - @jaxbox99
"Love you, Robin!!! You are truly an inspiration to me and many others. Please don't ever leave GMA!!" - @ow1973
Roberts has been working with ABC on "Good Morning America" for the past 13 years and has also secretly been dating Laign for the same amount of time. However, she only became open about her sexuality back in 2013 through a Facebook post. There, she thanked the most important people in her life for helping her get through one of the toughest years in her life due to the illness she battled. Among them, was Laign.
"I am grateful for my entire family, my longtime girlfriend, Amber, and friends as we prepare to celebrate a glorious new year together."
After coming out, Robins spoke to Ellen De Generes about Amber, saying that she doesn't like being under the spotlight which is why people rarely see her.
"She's very, very supportive and she's been right there beside me every step of the way, and it was actually the end of the year on my Facebook, and I had been thanking my doctors, my nurses and my sister who was a perfect match. And I said I want to say thank you."
A year prior, Roberts was diagnosed with myelodysplastic syndrome (MDS) in 2012 and got a bone marrow transplant with her sister as her donor. In October of that year, she was released from the hospital and quickly went back to her show in February 2013.
Of course, hoping to inspire people to be resilient, she documented her battle against the disease through a series of TV reports, for which she received a Peabody Award. In her book "Everybody's Got Something", Roberts mentions Laign as one of the most important people who helped her through such a difficult time.
Through the years, Amber and Robin have stood by each other through the good and the bad, and this is something that has kept their relationship strong. Aside from their faithfulness and love for one another, they also have the blessing of all those around them, and that's what makes their relationship all the more indestructible.
Please fill in your e-mail so we can share with you our top stories!