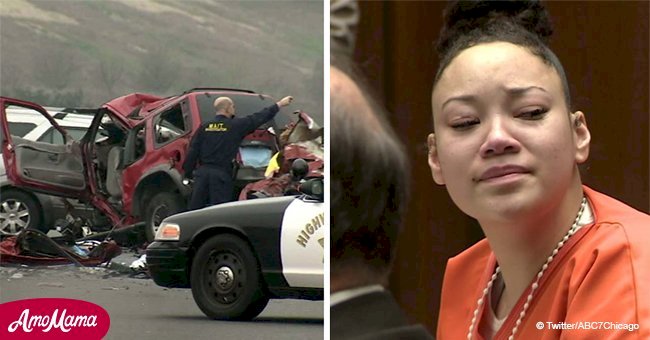 Drunk driver jailed for 30 years to life in wrong-way DUI crash that killed 6
The woman from Fontana was incarcerated for an accident that she caused fours year ago while she was drunk driving on the 60 Freeway in Diamond Bar.
Olivia Carolee Culbreath, now 26, was only 21 years of age and was a new mother when she was driving under influence (DUI) on the wrong way on the 57 and 60 freeways in the early morning of February 9, 2014.
Tragically, she slammed against the oncoming traffic at the speed of about 100 miles per hour, according to the investigators.
She drove against a Ford Explorer coming from the opposite direction, killing four people of the same family.
Follow us on Twitter to learn more.
The other two people who died were Culbreath's own passengers – her sister, 24-year-old Maya Culbreath, and her best friend, 21-year-old Kristin Melissa Young.
According to LA Times, witnesses revealed that Culbreath's red Camaro crashed into the Ford Explorer, which then slammed into a third car, resulting in a disastrous three-vehicle pileup.
Joel Cortez, the driver of the third car, a silver Ford Freestyle, is the only other person to have survived the accident.
The people inside the Ford Explorer, none of whom survived, were 47-year-old Gregorio Mejia-Martinez, 42-year-old Leticia Ibarra, 20-year-old Jessica Jasmine Mejia, and Ester Delgado.
Further investigation revealed that the alcohol content in Culbreath's blood, after about three hours of the crash, was measured at 0.15 percent.
Back in 2010, she had been warned by the court that similar future conduct would result in murder charges.
During the preliminary hearing of her case, it was reported that Culbreath had one previous record of being arrested for DUI which also resulted in a collision.
Back in 2010, she had been warned by the court that similar future conduct would result in murder charges.
She pleaded no contest to the six counts of second-degree murder to avoid any forms of a trial that would further bring suffering to the bereaved families of the victims. She was convicted and sentenced to 30 years to life in prison.
Previously, an Alabama bus driver was also arrested for crashing a Hoover city school bus while driving under influence. However, recently, his DUI charge was dismissed calling it an "error."
Sadly, the cases of DUI are all too common. A few months back another incident of drunk driving led to the death of a Dallas motorcycle police.
Please fill in your e-mail so we can share with you our top stories!