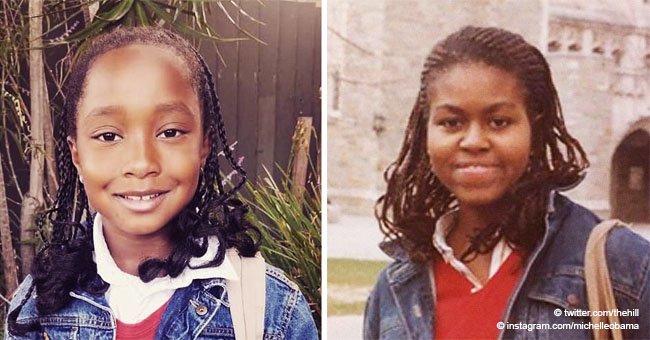 Little girl makes headlines for dressing up as 'hero' Michelle Obama in heartwarming photo

An eight-year-old adorably pays tribute to a young Michelle Obama during a dress-up-as-your-hero day in school.
Imitation is the highest form of flattery they say and Michelle Obama got the most flattering compliment when an eight-year-old decided to dress up as the former first lady during her college days.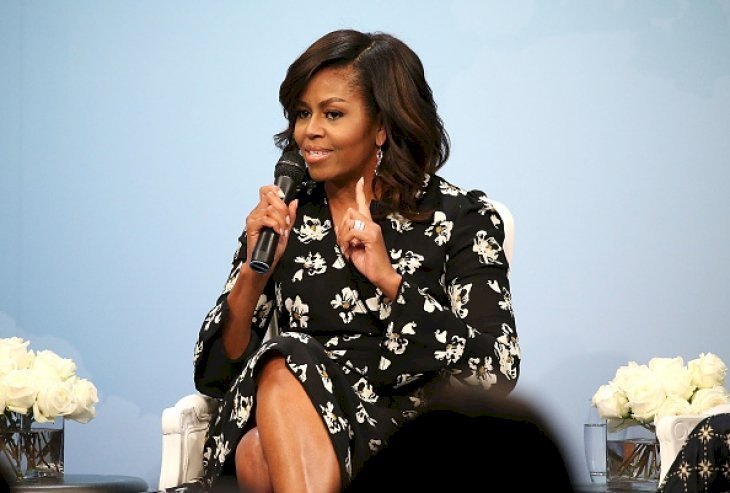 Source: Getty Images
A UNIQUE INTERPRETATION OF HER HERO
Ella-Lorraine Brown's school was celebrating Cultural Heroes Day and the only hero topmost on her mind to portray was Michelle Obama. However, Ella had a slightly different idea when she put on her clothes to make her look like her idol.
Standing out from many who dressed as the first lady, Ella donned a denim jacket and jeans and braided her hair in tiny strands. The look was inspired by a photo of Michelle from her freshmen days at Princeton University.
Ella nailed the look down to the red sweater she wore underneath her jacket and over a white shirt. She also slung a beige bag on one shoulder as she tucked a thumb into the side pocket of her jacket, just like Michelle did in the throwback photo that inspired Ella's ensemble.
WHY SHE CHOSE THAT LOOK
Ella's mom, Karlyn Johnson Brown, who posted a photo of her daughter's transformation was proud of Ella's choice, especially because she had a good reason behind it. According to Karlyn, Ella "was in awe of the idea that with hard work you could become anything" and "by choosing to portray her hero as a college student, the focus was on Michelle's accomplishments as an individual, not just as an attachment."
AMID STRONG BLACK WOMEN
Ella's admiration for strong Black women was nurtured by her parents who made sure she was aware of female "go-getters" she could look up to, both from the past and present. She previously dressed up as pilot Bessie Coleman and the first African American child to desegregate an elementary school in South Africa, Ruby Bridges.
ON MICHELLE AS A COLLEGE STUDENT
The photo that inspired Ella's look was shared by Michelle in May on her Instagram. Along with the 80's snap, she reminisced her days as a "first-generation college student" and described it as a "scary" experience in her caption. Michelle said she was a black student from the working class swimming in a sea of privileged white students. But she found confidence in friends and a mentor to stay true to herself. She also used the opportunity to advise the Class of 2018 to "be brave and stay with it" reminding them of how important education is in uplifting lives.
No wonder an eight-year-old looks up to the young Michelle. She was already an inspiration even during those days.
Please fill in your e-mail so we can share with you our top stories!