Jeannie Mai's estranged husband shares photo of his newborn daughter amid silence about divorce
Freddy Harteis is still on cloud nine after the birth of his first daughter, and he can't stop gushing about the baby on Instagram. The 'Hollywood Hunter' has remained quiet about his divorce from Jeannie Mai, but she has let it all out on "The Real."
Harteis welcomed baby girl Emersyn Rose with girlfriend Linsey Toole last October, about a year after he and Mai announced their divorce. They now estranged couple was married for ten years, and the fact that Jeannie didn't want kids was one of the determining factors to put an end to their relationship.
Only six months had passed from the divorce announcement when Harteis revealed he was expecting a child with Toole, which drove people to speculate about the man cheating on Mai while they were still married.
"It's just crazy. You hear all the time that money can change people. Well, divorce can really change people."
GUSHING ABOUT HIS LITTLE ONE
But Harteis has remained quite amid the general speculation, focusing on little Emmie, as he calls her and his small family with Toole. The adoring parents are regularly sharing pics of the baby girl with fans on Instagram, and Emmie has been stealing hearts left and right with her cuteness.
One of his most recent Instagram posts is a collage with pics of Emmie. In one pic, she's wearing a pink bathrobe while extending her arms to the camera; in the second one, the baby dons a rose-printed outfit to honor her name, and in the third one she's sleepily looking to one side of the camera.
"I can honestly say I have never loved a little girl like this before. #crazyaboutemmierose," Harteis captioned the pic.
Fans filled the reality star's comment section gushing about the baby too: "Daddy's little girl! Beautiful little angel" wrote one user.
Another added, "Oh my words, Emmie is a sweet baby girl with two wonderful parents. You never know the joys a child can bring until you have one…" and a third one chimed in saying "I can only imagine your heart must be bursting with abundant love for your precious. Heart melting."
JEANNIE AND HER REGRETS
And while Freddy and Linsey bask in the blissful joy of being parents, Jeannie Mai has been keeping it real on her daytime talk show while talking about the ups and downs of her marriage and divorce.
Just a few months ago, the 39-year-old broke down in tears on "The Real" while stating that, with the knowledge she has now of her soon-to-be ex-husband, she regrets marrying him in the first place.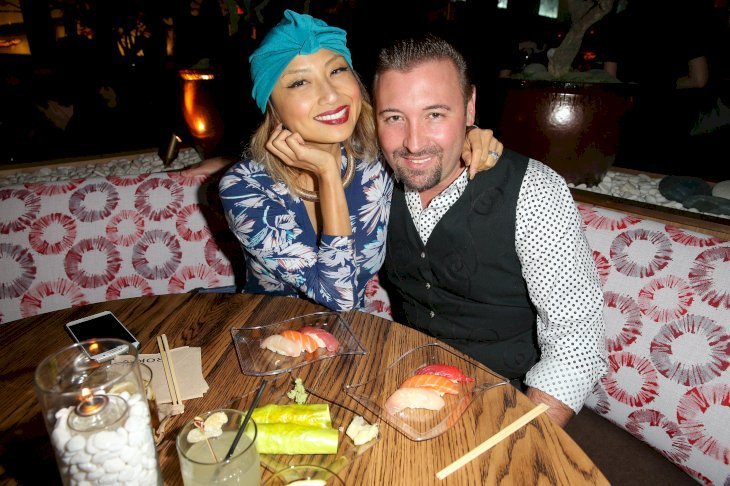 "It's just crazy. You hear all the time that money can change people. Well, divorce can really change people," she explained.
"It's just so weird because the one thing that he would always say back then is like, 'You really, truly don't know a person until they don't get what they want.' But I never thought he would be the one to prove that to me."
MONEY AND EGO GET IN THE WAY
According to Mai's declarations, she and Harteis parted on friendly terms and the divorce was going well in the beginning, but when money came into the picture, things got ugly. She stated that things started to take a turn for the worse "when money got involved and ego."
"You wake up with a rock in your heart, and you feel like you can't really make it through the day because it's just so heavy. Especially when finances get involved. Especially when people change," Mai explained on a visit to "The Breakfast Club" radio show.
More recently, Mai admitted that she knew on the first year of her marriage that something wasn't right, but as a loyal woman, she chose to stay and endure the relationship for years because she didn't want to hurt Freddy.
Her efforts were nothing in the end.