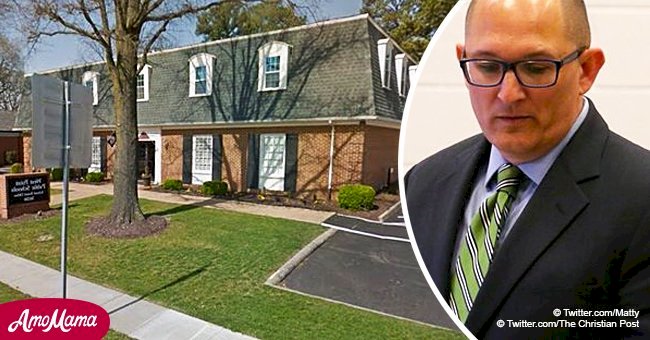 Teacher loses job for deliberately referring to transgender student using the wrong pronouns
Discrimination against anyone is unkind, and Peter Vlaming, unfortunately, had to learn this the hard way.
The 47-year-old teacher at West Point High School was fired due to his refusal to use the right pronoun befitting a transgender student at his school.
Transgender persons have been known to commit suicide in the past due to the mental stress derived from bullying and social discrimination.
On Thursday, after a 4-hour hearing, it was unanimously agreed to fire Peter Vlaming, one of the teachers at West Point High School in Virginia.
Follow us on our Twitter account @amomama_usa to learn more. This was solely due to the fact that Peter had been warned about the severity of the offense before.
It was simple; a ninth-grade student who just went through surgery to transition into the male gender should be addressed using male pronouns.
For one main reason, in particular, Mr. Vlaming found this request too hard to follow – his religion forbade it.
Like other similar cases where parents had to pull their kids out of school because the place of learning became "a horrible place," this student felt unwanted and singled out.
Although Peter is a Christian and according to him, his practice forbids him from acknowledging transgender persons, another reason he couldn't get himself to use the pronoun is cause he had the student in his class the previous year – as a girl.
The student's parents couldn't get past the teacher's attitude and how it was affecting their son, so they decided to take it up and report Mr Vlaming's behavior to the school.
"That discrimination then leads to creating a hostile learning environment. And the student had expressed that. The parent had expressed that,they felt disrespected." - West Point schools Superintendent Laura Abel.
Peter not only broke the heart of the student, he also broke some of the school laws put in place in case of scenarios like this - the nondiscrimination and harassment policy.
However, he felt his termination was unjust and got himself a lawyer, Shawn Voyles, who stated that his client's rights were also violated.
"One of those rights that is not curtailed is to be free from being compelled to speak something that violates your conscience," - Voyles
There was a hearing for Vlaming at the school and he had many people, both students and parents, come out to support him.
To many, Peter was an exceptional teacher whose atrocity seemed to be unfounded. He also felt he had not done anything outrageous, that all he did was follow one of the oldest rules in the world.
Since Vlaming wasn't aware of the emotional damage this could have caused for the student, he didn't think it was necessary for him to change anything.
During the hearing, Vlaming said he loves and respects all his students but a solution he tried to reach based on "mutual tolerance" was rejected.
Continuing, he stated that his offense was having views held by "most of the world for most of human history." Vlaming added:
"That is not tolerance. That is coercion."
It is not certain yet, but the teacher might be taking the school to court based on the basis of unjust termination.
Even though Vlaming didn't use the wrong pronoun, he ceased from using the right one too. He only referred to the student by his name during conversations and that made the boy feel even more uneasy.
In his defense, Vlaming claims that he is being punished for what he hasn't said.
Please fill in your e-mail so we can share with you our top stories!