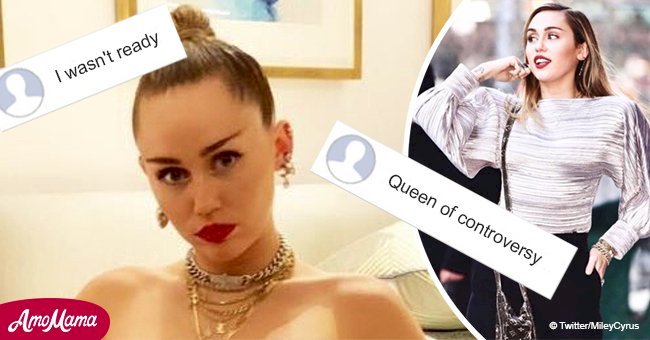 Popstar Miley Ray Cyrus is no stranger to controversy and taking risks with her music and appearance
Popstar Miley Ray Cyrus is no stranger to controversy and taking risks with her music and appearance. She recently went even further in a photo posted on Twitter.
Miley recently featured on a Mark Ronson track called "Nothing Breaks Like A Heart." The track and its music video have already become hits in the short time since their release.
Miley uses her social media platforms to promote her music, and this track is no different. In a tweet with the name of the song in it, she posted a racy picture of herself.
Read more on our Twitter @amomama_usa.
NUDE TWITTER
In the tweet, Miley is wearing only a pair of pants and jewelry, which her hands covering her bare chest. This evoked mixed reactions from her followers.
On the one hand, some people were inspired by her body positivity and saw her as inspiration for them to be more comfortable with their bodies.
On the other hand, there were those who used the opportunity to mock Miley's small breasts and tiny physique as well as to judge her for posting a racy picture in the first place.
BURNING HOUSE
Miley's life has not only been affected by negativity on social media, but also by the recent wildfires in California. Her home was completely burnt down, and only the land underneath it remains.
Before the fires reached her home, she was able to successfully evacuate herself, her animals, and her boyfriend, actor Liam Hemsworth.
Despite losing her home, possessions, and the memories they hold, she feels fortunate to have survived and to have rescued her animals, who are dear to her heart.
LYRICAL SIGNS
Six months before the fires took place Miley wrote: "Nothing Breaks Like A Heart" which includes lyrics about a burning house.
Looking back now she believes it was a premonition of how she lost her house in the California wildfires.
In a recent interview with SiriusXM she said:
"Honestly that was so weird. I didn't even think about it until like three days later, and I started to watch the video."
Please fill in your e-mail so we can share with you our top stories!