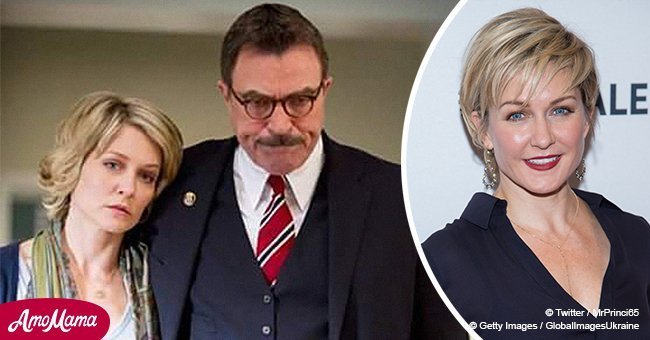 Here's Why Amy Carlson Left 'Blue Bloods' Disappointing Her Fans and Creating Controversy

In 2017, the death of Amy Carlson's character on "Blue Bloods" took its toll, not only on the fans but on the cast as well.
There may well have been some drama behind the cameras that caused her to quit the show and move on. However, this was never confirmed by the production team, nor by Amy Carlson herself.
Read more on our Twitter account @amomama_usa.
People who have been long-time supporters of the show "Blue Bloods" were astounded when they found out that Linda Reagan, Amy Carlson's character, had been unceremoniously killed off in season 7.
With her being one of the main characters, it was a shock for many since merely months before the season 8 premiere, she had publicized that the show remained as strong as ever even after seven seasons.
On the show's premiere airing for the 8th season, it was revealed that Linda passed away due to a helicopter crash. Carlson's character's death was not shown and even the cast appeared taken aback by the sudden drop in the cast list.
Following her permanent absence, she paid gratitude to her supporters through an open letter she posted on social media. In it, she expressed her gratefulness to the whole cast and crew, and also to CBS for the great opportunity she was given.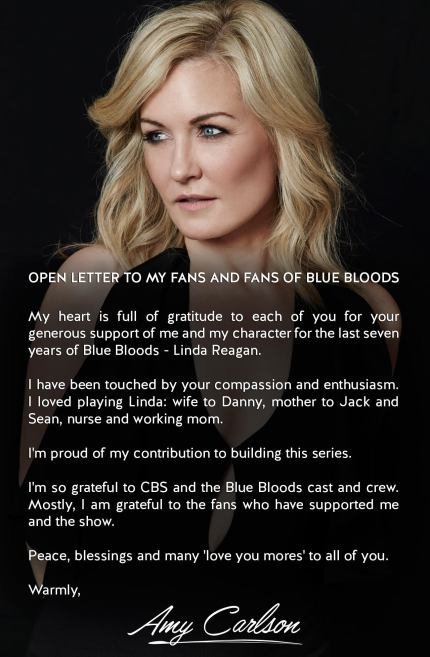 Source: Instagram / Amy Carlson
Although many have tried to insinuate that there was more to her departure than meets the eye, Carlson has not said a word contrary to her letter and accepts that her contract was up and it was the right moment to move onto new ventures.
Meanwhile, Donnie Wahlberg, who played Danny, Linda's husband, said that playing the part of a grieving widower was not that hard for him.
He said to the audience at Paleyfest in New York that he was actually thinking of saying goodbye to his good friend and colleague when he was acting out the emotional scene:
"I thought about all the years together and all the highs and lows and the ups and downs and the journey. Any tears I shed in that scene was really Donnie shedding them for Amy."
Carlson's other former co-stars also opened up about their sadness and disappointment when they found out that she left the show for good, including Sami Gayle and Bridget Moynahan.
However, Bridget also said, "I'm really thrilled for her to go off and pursue other things and follow what she felt was best for her."
Please fill in your e-mail so we can share with you our top stories!