The story of Texas teacher who adopted student and gave him a forever home still melts hearts
Anthony Berry spent seven years in a foster home in Jefferson County, Texas, before one of his former teachers decided to adopt him.
The teenager was 16 years old when the adoption process ended (November 2017), what made him the oldest child adopted in the county. One of the things that surprised everybody the most, including himself, was that he didn't want to be adopted at first.
In an interview Anthony and his mother had with ABC News, he set clear that everything changed when he met Bennie Berry, his English teacher at Pathways Learning Center. "I started talking to her and we just kind of clicked," explained Anthony.
Anthony Berry had given up hope on ever being adopted until he met his high school teacher Bennie Berry. pic.twitter.com/pIzZ2AJhqB

— LightWorkers (@LightWorkers) January 5, 2018
THE REQUEST
Months after meeting each other, the boy surprised the teacher asking her to adopt him. Bennie set clear that she thought Anthony was joking until the boy explained his situation.
16-year-old Beaumont student asks teacher to adopt him and she does today at Jeff Co. Courthouse https://t.co/AXUZNZqWfJ pic.twitter.com/dviOPOYhIX

— WFAA (@wfaa) November 19, 2017
After thinking about it for a while, they made a deal, "finish your assignment and then you can show me the website," revealed the teacher. Anthony completed it faster than ever.
This story of a Texas HS student who asked his favorite teacher to adopt him will warm your heart https://t.co/1V9W2FQxGW pic.twitter.com/S4BNnvlMKD

— The Root (@TheRoot) December 1, 2017
The boy even revealed that he thought Bennie wouldn't take his request seriously, but the truth was completely different, and they are now a family. Anthony became the teacher's first son.
High school teacher adopts 16-year-old student https://t.co/yKSt0KTmTS

— WSVN 7 News (@wsvn) November 28, 2017
THE OUTCOME
As a way to advise other children in his situation, Anthony said: "If you have ever thought about adoption or didn't want to be adopted, actually try it because you never know. Take into consideration that ... there is always someone that will love you."
Student gets a forever family after asking teacher to adopt him: https://t.co/yESPRS1XTZ pic.twitter.com/IowgQ0HFB6

— ABC 7 Chicago (@ABC7Chicago) November 21, 2017
At the end of the interview, Bennie shyly told her son, "I love you, Anthony," to what the teen laughed, replied, "I love you too, mommy," and kissed her in the cheek.
One Texas teacher adopts her 16-year-old student giving him a forever family in time for the holidays https://t.co/Ljy7810rhV pic.twitter.com/LhVb06CMc6

— Blavity News (@Blavity) November 26, 2017
THE BARTLINGS
It is not the first time that an adoption story goes viral. A Virginia couple, Joe and Karen Bartling, had trouble conceiving after welcoming their biological son, Joel, but after trying IVF many times without success, they looked to adoption.
The couple's first adopted child was Hannah, a two-year-old girl born without eyes and abandoned at an orphanage in South Korea. After that, they adopted another blind girl, Jesse.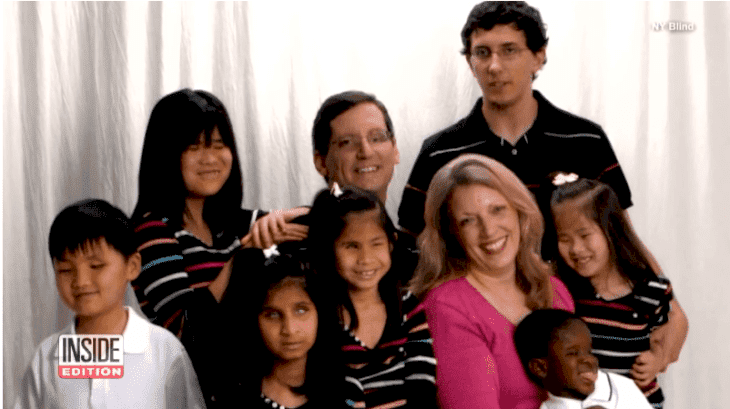 "After that, we became the go-to couple for the social workers and the agency when they had a blind child," said Karen. Later, the Bartlings adopted Abi, a third blind girl found in a trash can in India.
At the moment, Karen and Joe are parents to six children, and even though they all require special care, they have no regrets. "It's challenging but rewarding," admitted Karen.