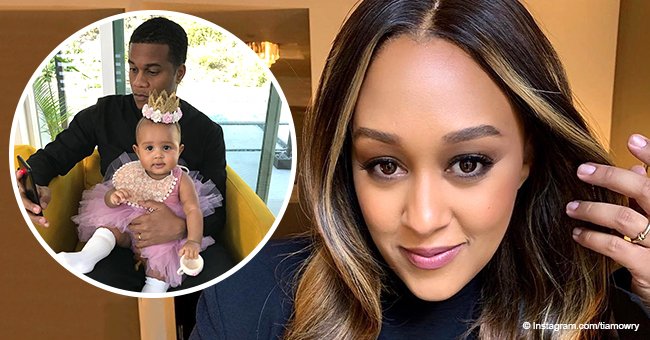 Tia Mowry's baby daughter rocks princess dress and tiara in new picture with dad Cory Hardrict
Tia Mowry 's daughter is a delight in a new pic with her father as her mother announces a new video in the works.
She was an instant hit since her mother, Tia Mowry showed her off to the world in an introductory video. Now, Tia reveals, 7-month-old Cairo Tiahna Hardrict will be appearing in a new video, this time with her father, Cory Hardrict.
PRINCESS WITH A PROJECT
Tia took to her Instagram to share a photo of her adorable little baby who's all set for a video shoot. Decked in a pink tutu dress and white socks, Cairo is sitting on her father's lap with a crown on her head and looking like a princess. She appears camera-ready as she looks directly at it while Tia takes the photo. Meanwhile, her father, clad in an all-black outfit is busy reading something from his cellphone.
Tia shares in her caption that Cory and Cairo are "shooting a FUN video" for her Tia Mowry Quick Fix channel on YouTube. She didn't expound on it but just asked her followers to "stay tuned."
CAIRO'S FIRST VIDEO APPEARANCE
The channel is also the medium the mother-of-two used to introduce Cairo to the public almost two months after her birth. She featured her in a video where she likewise revealed her name for the first time. She explained its meaning after admitting it was her husband who thought of it. He saw the letters A, I, and O in the sky while on a plane and that's when he thought of incorporating them in their baby's name. The name they derived, Cairo, means "victorious" while her second name, Tiahna, means "follower of Christ."
CORY'S BONDING MOMENTS WITH CAIRO
Cory, like Tia, is a devoted father to their children. Tia would often share photos of him doting on their baby. Recently, Tia captured a sweet moment where Corey smooches Cairo's bare tummy while lifting her up in the air. The little girl with a pacifier on her mouth didn't appear to mind as she just stared at her mom who's behind the camera.
Father and daughter also had a twinning moment during Cory's birthday. They wore matching colored outfits while out celebrating. Tia also revealed the little girl was teething at the time the photo was taken explaining her facial expression.
Cairo is growing in front of the public's eyes and every moment shared by Tia of her journey is a joy to see. We're sure the video she and her dad will be appearing in will be adorable. We can't wait to see it.
Please fill in your e-mail so we can share with you our top stories!