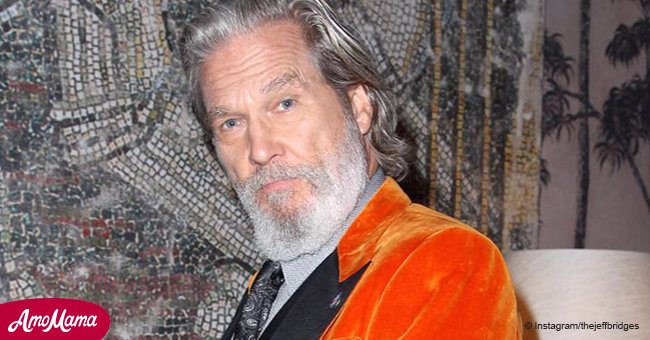 Jeff Bridges is nominated to receive the award named in honour of the great Cecil B. DeMille

Celebrated actor Jeff Bridged will be receiving a prestigious award at the 2019 Golden Globes.
Jeff Bridges, 69, will be honored with the Cecil B. DeMille Award at the 76th Annual Golden Globe Awards in January 2019.
The actor is being celebrated for his astonishing body of work in a career that spans 5 decades, and has garnered numerous accolades, including a Golden Globe and an Oscar for the 2009 movie, "Crazy Heart."
THE CECIL B. DEMILLE AWARD
The Cecil B. DeMille Award is an honorary Golden Globe Award awarded to an actor, director or producer who is considered to have made a substantial contribution to film.
It was first awarded in 1952 to the legendary film pioneer director Cecil B. DeMille at the 9th Golden Globe Awards. Bridges will be joining a prestigious list of recipients that include Walt Disney, Fred Astaire, Judy Garland, James Stewart, John Wayne, Charlton Heston, Kirk Douglas, and Frank Sinatra.
Bridges is the national spokesman for the Share Our Strength/No Kid Hungry campaign that is fighting to end childhood hunger in America.
JEFF BRIDGES DEBUTED IN MOVIES AT THE AGE OF TWO
Bridges debuted in a movie called "The Company She Keeps" in 1952, at the age of 2 as an uncredited child in a train station, and from then on his path was set. In a brilliant career distinguished by his unerring choice of memorable roles and breathtaking performances, Bridges has garnered 7 Academy Award nominations.
His roles have ranged from a lovable alien to a chilling killer, a broken-down country singer, and a failed musician - and he has played them all flawlessly.
BRIDGES' HUMANITARIAN WORK
The Cecil B. DeMille doesn't just honor talent, it also rewards philanthropy. Bridges founded the End Hunger Network, a nonprofit organization dedicated to feeding children around the world.
Bridges is the national spokesman for the Share Our Strength/No Kid Hungry campaign that is fighting to end childhood hunger in America.
A great actor and a great human being, congratulations, Jeff Bridges.
Read more on Twitter Amomama USA.
CAROL BURNETT TO BE HONORED WITH A SPECIAL AWARD
Another entertainment legend will be celebrated at the 2019 Golden Globes Awards. To complement the Cecil B. DeMille Award that honors an analogous award for achievement in television.
"Equivalent to its film accolade counterpart, the Cecil B. DeMille Award, this new annual award will honor TV's biggest names and brightest talents"
Meher Tatna
Meher Tatna, president of the Hollywood Foreign Press Association, spoke about Burnette and her achievements:
"For more than 50 years, comedy trailblazer Carol Burnett has been breaking barriers while making us laugh. She was the first woman to host a variety sketch show, The Carol Burnett Show. She was also the first woman to win both the Mark Twain Prize for American Humor and Kennedy Center Honors."
Like Cecil B. DeMille, Carol Burnett's comedic genius will be immortalized by the award, which will reward excellence and lifetime achievements in Television.
In a related story, Jeff Bridges and the rest of the 'Big Lebowski' cast reunited to celebrate the movie's 20th anniversary.
Please fill in your e-mail so we can share with you our top stories!