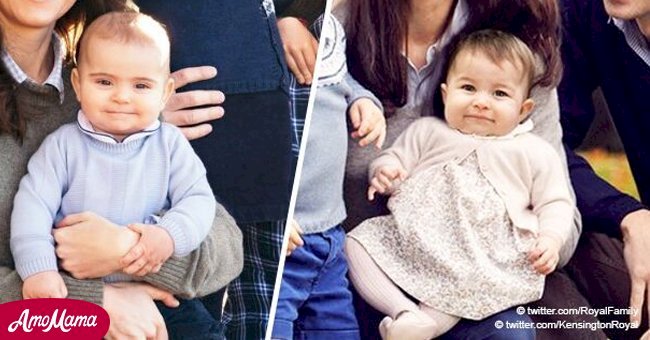 Princess Charlotte was the little royal star until the camera captured Prince Louis in pants
Prince William and Kate Middleton released their official Christmas Card on Friday and Prince Louis, the baby of the house seems to have stolen the show from Princess Charlotte; the queens look alike.
The little Prince looks so much like his elder sister in the newly released family picture.
This will be the first time the family would be putting a complete picture out there, and we have the beautiful eight-month-old Prince Louis picture debut.
The baby was wearing the hand me down shorts and shoes of his five-year-old brother George, but he still managed to steal the show.
His obvious resemblance to Charlotte when she was about his age is uncanny; it's like looking at the same person.
Their family picture in 2015 shows the resemblance; the duo share their mother's brown eyes.
They both gave the camera good smirks and obviously enjoyed the whole process
The two siblings share a lot more than looks, their birthdays are just a few weeks apart, three-year-old Princess Charlotte celebrating hers on May 2, and her younger brother was born on April 23.
Their bond has been very apparent.
Charlotte can be seen in pictures taken at Louis christening, showering love on her lookalike brother.
The family Christmas Picture taken by photographer, Matt Porteous, shows the family of five, the Duke and Duchess of Cambridge and their three beautiful children.
The picture was taken at Anmer Hall and features on their Royal Highnesses' Christmas Card for this year.
Charlotte, who has been the center of attention, stealing it from her elder brother George due to her uncanny resemblance to her dad and the queen's unhidden favoritism towards her, had to take a back seat as her younger brother flashed his cute smirk.
Everyone can't stop talking about his cuteness and resemblance to Charlotte. It's all very funny because some would swear that Charlotte looks just like her mom.
It's obvious the young Prince Louis is growing into a handsome man and may just be the new showstopper in the royal family.
Please fill in your e-mail so we can share with you our top stories!