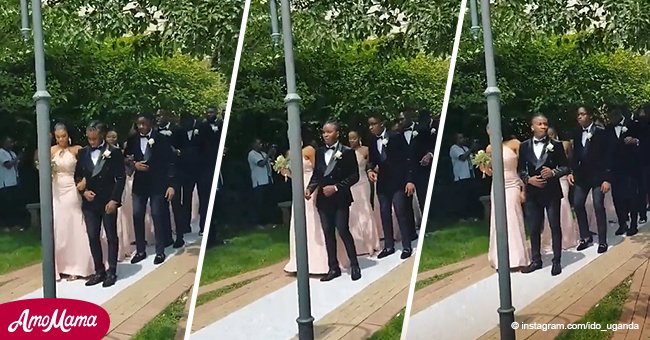 Video of Black bridesmaids and groomsmen dancing their way down the the aisle still melts hearts

In lieu of a wedding march, this fun bridal entourage danced their way to the altar and eased their way into people's hearts.
Guests were treated to a grand entrance at the wedding of Val and Dido Dilenga when their bridesmaids and groomsmen didn't just walk down the aisle but danced.
MARCHING AND GROOVING
A video clip of the group's outstanding performance went viral and showcased the unique choreography of about fourteen elegantly dressed men and women doing a two-step routine to the rhythmic tune of Willy Paul's "I do."
The number also featured sways and twirls as the group inched their way to the altar. Their impressive show of unity certainly brought the wedding to an upbeat start.
The video didn't include the bride's entrance but it's safe to assume guests were revved up to see her march down the aisle. We just hope the pre-show didn't steal her thunder. But that shouldn't be the case since it's more likely the bride's idea for a wedding "dance." After all, it is her wedding.
VOWING AND RAPPING
Most weddings nowadays veer away from tradition by spicing things up with something that uniquely stands out. One such wedding was Reginald and Kiana Ousley's. Instead of delivering his vows the usual way, Reginald rapped his feelings while his wife danced along. Their groomsmen pumped it up even more by dancing side to side as the groom professed his love.
Meanwhile, two brides getting married did the crazy thing of lighting up their wedding dresses on fire. They were known adrenaline junkies and wanted to do a crazy thing on their wedding day. They even celebrated their wedding backwards beginning with the reception. They also had a guest list that boasted of eight fire performers and a certified pyrotechnic.
The couple planned the moment they would light up their dresses on fire by wearing detachable skirts. After they said their wedding vows, they lit up their skirts making for a spectacular wedding photo. The clip of their stunt went viral for obvious reasons.
Please fill in your e-mail so we can share with you our top stories!