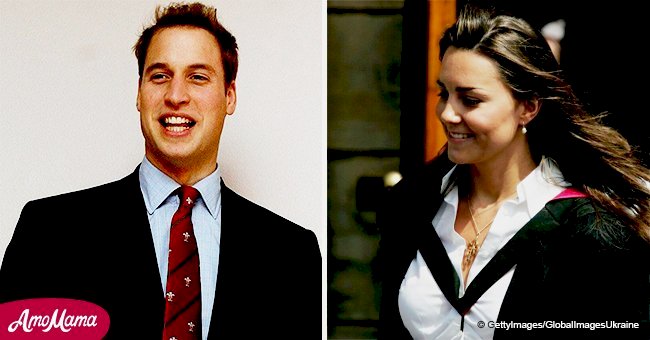 Hilarious video of Prince William awkwardly answering a question about Kate after their breakup
Rare video of Prince William answering a question about Kate after their breakup recently resurfaced and everyone can't stop laughing about it. See the video below
Just like most couples, this royal couple is not immune to their fair share of troubles.
Follow us on our twitter account @amomama_usa to learn more.
In a video which went viral in 2007, a reporter was seen asking Prince Williams and his younger brother Harry "How are things going with Kate?"
The person who posted the video tagged it saying:
"this clip will never not make me laugh"
The video is hilarious and ridiculously awkward, Prince William could not give the reporter a straightforward answer, so he ended up talking about something entirely different. He digressed into talking about an event which was coming up after he giggled uncontrollably in a shy manner.
"I've got a lot of friends coming," he said
still talking about the upcoming event, he said everyone would be there tonight, and the event would be a great one.
Prince Harry tried rescuing his brother from the awkwardly funny scenario by making a light joke -
"very well avoided William"
to which William quipped back -
"very diplomatic"
Everyone laughed as it was a cute and adorable moment with nothing but fun trips. Prince Harry did really well in having his brother's back; no wonder they are very close
The couple did go through a rough patch then, and it was quite public. The reasons were never given, although some sources say it spurn from some deep source of drama.
Kate Middleton wanted out and left England that period; they eventually reconciled and got back together.
The beautiful family in a recent interview spoke about the rough past and how they left it behind.It's a thing of the past, and they have moved on to build a beautiful home with three lovely children.
They are one of the world's favourite couples, because of their ability to relate to the common folk; they have over the years kept it simple and down to earth.
Watching the video would leave you laughing and feeling sort of embarrassed for Prince William who was put on the spot by the reporter, but in all, he handled it well and managed to keep his troubled marriage out of the tabloids. It's nothing but love and joy in the future of this royal couple.
Please fill in your e-mail so we can share with you our top stories!