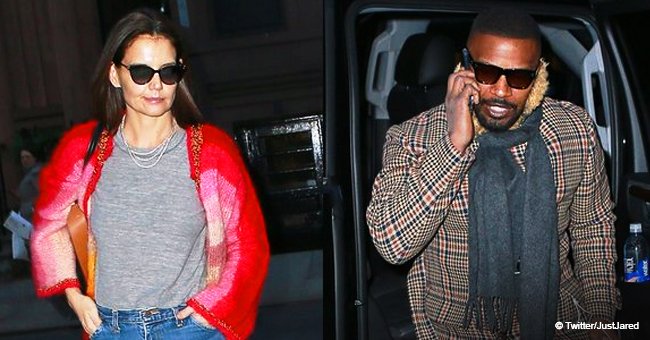 Katie Holmes and Jamie Foxx get together to celebrate her 40th birthday with dinner in NYC

Katie Holmes made sure to spend her birthday with her special someone, heading out to dinner with her boyfriend Jamie Foxx.
As Katie Holmes turned 40-years-old on Tuesday, she stepped out to have dinner at the dreamy Serendipity Cafe in New York with the 51-year-old actor to have a simple dinner for her birthday. Keeping it casual, Holmes sported a colorful full-length cardigan, a gray t-shirt, Gucci shoes, and blue jeans for their dinner stroll, while Foxx wore a patterned coat, ripped jeans, and white sneakers.
It wasn't just the both of them having dinner, however, as they were joined by Katie's mom, Kathleen A. Stothers-Holmes, who enjoyed the delicious delicacies of the famous restaurant. While Foxx and Stothers-Holmes enjoyed Serendipity's frozen hot chocolates, the birthday girl opted for something simpler in the form of a strawberry sundae.
According to a source obtained by People, Katie received a bag of sweets from the restaurant as a birthday present, thanking her for choosing to dine in their restaurant on her special day.
Missing from their dinner was Katie's daughter with ex-husband Tom Cruise, who seemed to have been left in their New York mansion.
Holmes and Foxx have been extremely busy due to their upcoming projects, but have never failed to keep themselves in their schedule. Throughout the past few months, they have been seeing each other regularly, even photographed leaving the trendy restaurant called "R'evolution" in New Orleans last November as they both took a step back and had a breather from their movies.
Although they've been choosing to keep their relationship under wraps, they've been getting more comfortable being seen in the public eye. They've gotten through breakup rumors and many other challenges, but the couple has remained strong through it all, proving their doubters wrong.
Please fill in your e-mail so we can share with you our top stories!