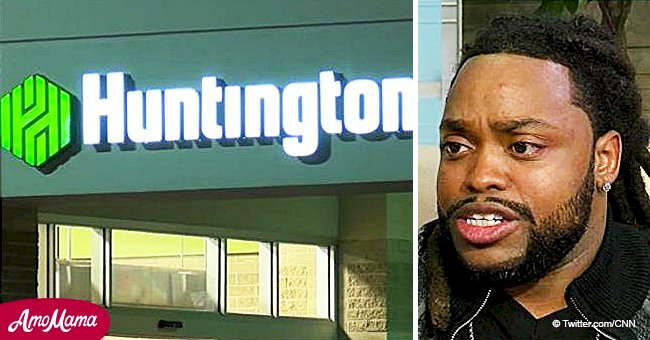 Man attempts to withdraw his first paycheck from a new job but found himself handcuffed instead
A black man from Ohio was handcuffed and put into the back of a police car after a bank teller wrongly assumed that the paycheck he presented was fraudulent.
The bank has released a formal apology after reports of the incident sparked a new hashtag, #BankingWhileBlack.
On December 1, Paul McCowns, 30, a new employee at an electric company went to a Huntington bank branch in the suburb of Brooklyn, Ohio, to cash his paycheck of $1,000.
Since he wasn't a regular customer at the bank, he was requested to present two forms of ID and a fingerprint – as per banking policy for non-account holders at the bank.
He readily provided all three as confirmed by bank officials and McCowns himself. Follow us on our Twitter account @amomama_usa to learn more.
Bank officials were still suspicious of the authenticity of the check. After several attempts to call McCowns' employer proved abortive, they declined to complete the transaction.
McCowns then left the bank empty-handed, thinking the issue had been settled. Moments later, he was accosted by the police who handcuffed him and put him in the back of a cruiser.
"I get in my truck, and the squad car pulls in front of me, and he says get out the car," McCowns revealed.
Unknown to him, while he was leaving the bank premises, an employee had called 911.
"I have a customer here – he's not our customer. He's trying to cash a check, and the check is fraudulent. It does not match our records," said the bank employee to a 911 operator.
After being arrested, officers finally got in touch with McCowns' employer who confirmed that the check was valid and McCowns is an employee.
"My employer said, 'Yes he works for me. He just started, and yes, my payroll company does pay him that much,'" McCowns stated.
The police immediately released him after it was confirmed that there was no fraud. McCowns later cashed the check at another Huntington branch the following day.
Huntington bank released a statement apologizing to McCowns for the "unfortunate event," part of which reads:
"We sincerely apologize to Mr. McCowns for this extremely unfortunate event. We accept responsibility for contacting the police as well as our own interactions with Mr. McCowns. Anyone who walks into a Huntington branch should feel welcomed."
The bank spokesman also said there had been almost a dozen cases regarding fraudulent checks in that Huntington branch from July until now which necessitated employees to be "hypervigilant."
However, McCowns insists that his treatment is as a result of racial profiling.
There have been some incidents which have garnered media attention this year involving African Americans being viewed with suspicion for merely existing in public spaces.
Starting with the media report eight months ago of how two black men – Rashon Nelson and Donte Robinson – were charged with trespassing while waiting in a Philadelphia Starbucks.
There have been many more stories involving police receiving calls and reports about people of color doing harmless activities ranging from babysitting children to simply entering their apartment buildings.
Following his "Banking While Black" experience, McCowns says he wants an apology from the bank and a change in how the bank handles customers who don't have Huntington accounts.
To know what determines your paycheck amount and when or how you'll likely receive your paycheck or final paycheck, click here to find out answers to these and more.
Please fill in your e-mail so we can share with you our top stories!