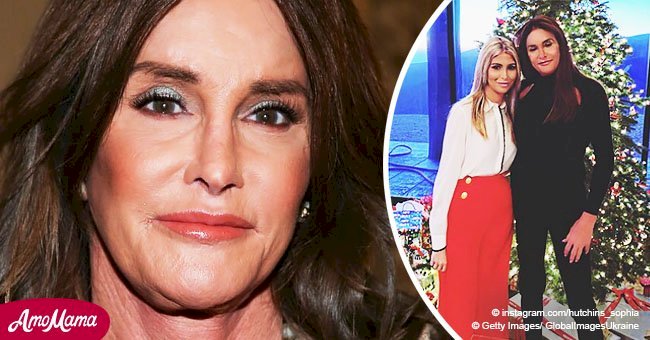 Caitlyn Jenner poses under 11ft tree with her partner for their first Christmas together
Sophia Hutchins, Caitlyn Jenner's transgender girlfirend shared a picture of the couple having fun at a pre-Christmas party in Caitlyn's Malibu home. This will be their first Christmas together
"From our little pre-Christmas party last night! Only six days until Christmas!!" - Sophia captioned the image
Follow us on our Twitter account @amomama_usa to learn more
Caitlyn Jenner, 69 who recently moved out of her Malibu house because of wildfire in November is back home and has prepped the home for Christmas. Of course with the help of her 22-year-old boo.
Sophia Hutchin's post on Instagram suggests how excited the young model is about spending this festive period with her partner. The image showed the couple in front of a beautifully decorated Christmas tree.
There were wrapped gifts around the tree; right in front of the glass door at the Malibu home. It was a breathtaking view - the image captured all the magic.
Three days ago Hutchin posted a video of the just decorated tree; the tree was well lit and twinkled under the lights from the glass doors.
"Hey, guys we just finished decorating the tree for this year. It's about 10 and a half, 11 feet tall. All the ornaments mean so much to me" - Sophia said in the video.
Hutchins decorated the tree with ornaments gifted to her from her from someone dear; her grandmother. According to her, the decorations were collected for years which makes the tree so sentimental to her.
"Its so beautiful and I'm so happy that it's finally decorated. I love it" - Hutchin
The young blonde recently referred to 69-year-old Jenner as her partner. She explains that they share a lot in common and see the world in a similar way.
"...we both are such a good match for each other because we challenge each other," she said.
She gushes about how Caitlyn challenges her in so many ways and therefore allowed her to grow tremendously. Sophia, of course, added that she also had left a good impression on Jenner.
Their relationship is adorable.
They both pubicly announced their relationship quite recently, and the news was met with different public reactions. Most people had something to say about the wide age difference. Although,This does not seem to bother the young transgender model.
Please fill in your e-mail so we can share with you our top stories!