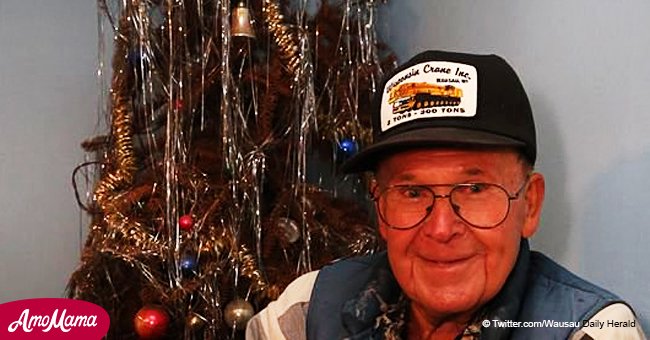 Man swore he wouldn't put out his Christmas tree until his sons came back home

A war veteran from Wisconsin began a Christmas tradition more than four decades ago. This year, the tradition comes to an end.
Back in 1974, father-of-six Neil Olson set up a Christmas tree in the lounge and vowed that it would remain right there until all his children were reunited.
Several of this son went off to the Vietnam War, where his eldest son sustained a severe injury. Read more on our Twitter account, @amomama_usa.
His children range in ages from the mid-50s to mid-60s and haven't been together at the same time since 1964. Sadly now, that will never come to pass.
Olson's eldest son lives in Washington, and he was unable to travel due to the injuries he sustained during the Vietnam War.
Five of his son, along with their wives and children, would visit Olson often, however, the fact that his family wasn't all together at the same time was a hard pill for him to swallow.
Olson's wife passed away in 1985, but still, he had hoped all six his sons would join in him for Christmas. One day.
Sadly, Olsen died in a car accident back in November of this year. The family is now preparing to take the tree down.
One of his sons, Ollie, told reporters that his father was sentimental and had a sensitive heart. He never lost faith and kept the family tradition going.
The family is planning to have a final toast in Olson's honor before "lighting the tree up."
In a similar case, a retired marine from Wisconsin who served in Vietnam kept a promise he made nearly five decades ago.
The 83-year-old veteran and his retired comrade vowed to stay in touch after the war. Cox, 83, visited his friend, Hollingsworth, 80, for the last time back in 2017.
Hollingsworth passed away soon after the visit, and Cox fulfilled the last promised he made to his best friend: To stand guard over his coffin and deliver a eulogy at his funeral.
Read the full story here.
Please fill in your e-mail so we can share with you our top stories!