The story behind 'TODAY' show's 'horrible' makeover on Black woman's natural hair that went viral
Malyia McNaughton became a viral sensation after she had to endure a terrible makeover session on live TV as part of a segment on the "Today" show. People slammed the stylist for her bad choices, even though she issued an apology.
McNaughton, a beautiful black model, received a call from producers at the "Today" show to be part of a beauty segment on the show the next day. The section would be focused on hairstyles for the summer, and the stylist was Deepica Mutyala.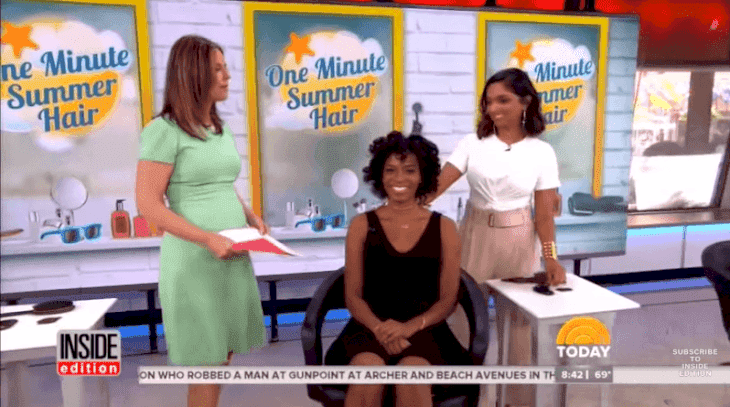 In the segment, titled "One Minute Summer Hair," Mutyala tried to teach women of different hair types and races that everyone can style their hair in less than one minute.
Mutyala did a simple twist on the first model's hair, which was not perfect but looked decent,  and when it was McNaughton's turn, things went down south.
THE "MAKEOVER"
Clearly, in a rush, the hairstylist took McNaughton's natural hair, styled in curls, and tied them up in a "high side ponytail." Then, she tried to create "bangs," combing through the model's curls with her fingers and puffing them out.
The final result was such a mess that the model looked as if she had just woken up from a nap or rolled down a hill, or something along those lines.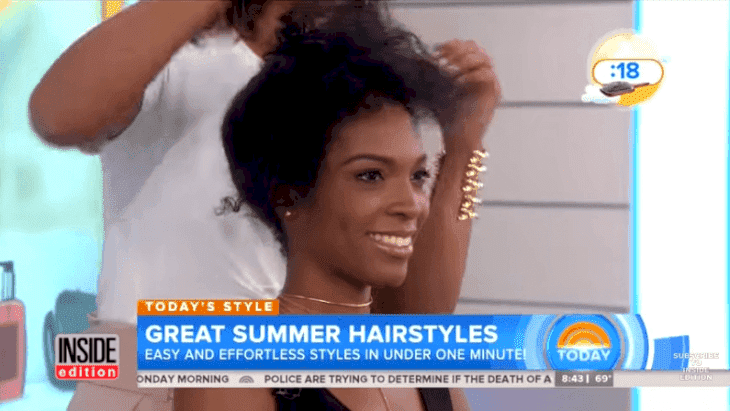 "It's actually not that trendy to be perfect," Deepica said trying to cover up her mistake.
McNaughton kept her charming smile in place through the whole ordeal.
A video of the moment went viral on social media after someone took offense at Deepica's lack of professionalism and knowledge on black people's hair. More people called her out for not known how to handle natural curly hair and to allow that her mistake ridiculed the model on national television.
Malyia McNaughton is a model, stylist and jewelry designer empowering others through fashion https://t.co/vteGrd1B6g pic.twitter.com/ayuFkN66ut

— Blavity News (@Blavity) March 9, 2016
THE APOLOGY
It took Deepica two days to release a public apology on Twitter. She said she was embarrassed and was genuinely sorry about her actions. And also added that, as an advocate for inclusion and diversity, she would do better in the future.
August 5, 2016
McNaughton, on the other hand, gave her side of the story in an interview with The Cut, and she made sure to mention there were no hard feelings toward Deepica at all.
"I felt for her because I knew her intentions were pure and I'm an advocate for everything that has to do with natural hair, black-related inclusion, and so I felt her sentiment and didn't want it to turn that way," she said.
When asked about the people's reaction, she said:
"I think that in the beauty industry we're both people who are trying to break boundaries, and I thought that it was great that she wanted to show diversity. I commend her and applaud her for that, and that's why I think people need to look at that angle as opposed to completely bashing her because I feel like that closes the door for future opportunities."
Considering the struggles that black people have to face because others don't accept their natural hair, is only natural that people got so mad with Deepica for her insensitive actions.
Slay 💁🏽🙆🏾❤️ @deepicam 😂😊 pic.twitter.com/6YNqwrsFoq

— All he wanna do is gas me (@themodelmalyia) August 10, 2016
WOMAN IS ASKED TO LEAVE JOB FOR WEARING BRAIDS
Another case of a black woman embarrassed by her hair took place in Canada. However, she had a happy ending and justice served.
Lettia McNickle was working for a restaurant when, one day, she arrived at work wearing braids. But her boss was not happy about the hairstyle, asking her to leave and stating that she didn't want that hairstyle in her establishment.
Montreal Restaurant Owner Ordered to Pay $14.5K to Black Employee She Sent Home Over Her Braided Hairstyle https://t.co/iokFugdd7I pic.twitter.com/4fKZlhKAwx

— Atlanta Black Star (@ATLBlackStar) December 8, 2018
"She took me aside personally and told me she did not want that kind of hairstyle in her establishment," said McNickle while holding back tears.
The woman filed a report alleging racial and gender discrimination, and four years later, a judge ordered the restaurant to pay to the woman $14.5k for her troubles.