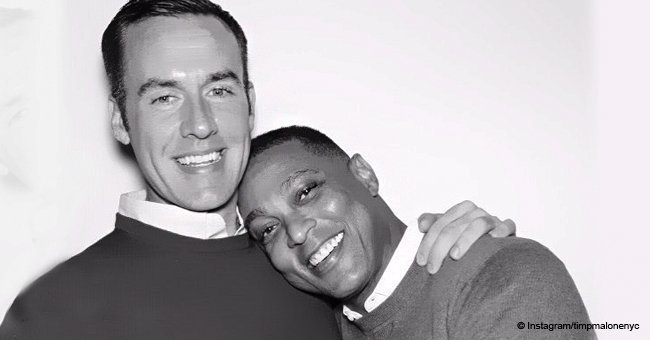 Don Lemon and his boyfriend flash sweet smiles while cuddling

Don Lemon shares a Christmas cuddle with his boyfriend close to a year after they shared a public New Year's kiss.
Since coming out as a gay man in 2011, television anchor Don Lemon has taken pride in the life he chose and more recently, in his relationship with his boyfriend. After they welcomed 2018 with a televised New Year's kiss, it seems the pair remained strong and are about to ring in the coming year still together.
CHRISTMAS CUDDLE
Earlier this month, Lemon and his boyfriend, Tim Malone shared a sweet moment while making the rounds of Christmas parties. In a pic posted by Malone on his Instagram, they matched in white shirts and dark sweaters as they happily cuddled with each other.
"Christmas parties with @andersoncooper360 and @benjaminmaisani," the caption read revealing they were in the company of fellow openly gay correspondent Anderson Cooper and his friend, Benjamin Maisani.
In Lemon's own Instagram, he also shared a photo where they're joined by the party host, Cooper and Maisani as he delighted in the time they had together in his caption.
"Always a good time with Anderson and Ben at the @andersoncooper360 holiday party."
MEMORIES OF THE PAST NEW YEARS
Holiday photos of Lemon such as this remind us of last year when he first publicly acknowledged his relationship with Malone. It was during his live New Year's coverage for CNN in New Orleans that he memorably threw caution to the wind and revealed he "found love" before sharing a New Year's kiss with Malone.
The kiss was significant because a year earlier, also during a New Year's coverage, he opened up about wanting to create a balance in his life and finding someone to share it with.
"I need a little bit more balance in work/life. I may be open to a relationship this year," he famously told his co-anchor Brooke Baldwin after downing a few cocktails.
A PARTNERSHIP WORTH CELEBRATING
With that wish materializing last year, Lemon and Malone should be celebrating more than a year-long romance this coming new year. And it's a relationship worth celebrating. This past year allowed us to see how happy they both are–from attending events together to marveling at fireworks and even adopting a pooch. In July, the couple welcomed a dog into their home, a sign of their commitment to making a cozy life for themselves.
COMING OUT IN 2011
It took 45 years for Lemon to come out as a gay man in his book "Transparent" in 2011. He said the hardest part was telling his mother because he also had another confession to make, he was molested as a child. But when he finally did, Lemon said his life changed dramatically for the better.
Now Lemon is reaping the benefits of that confession in more ways than he can imagine.
Please fill in your e-mail so we can share with you our top stories!