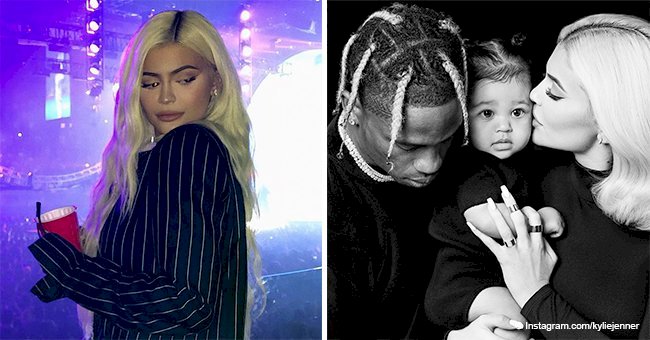 Kylie Jenner rocks stylish blazer dress at boyfriend's concert after he teased possible proposal
Kylie Jenner stunned fans in a stylish blazer dress while attending her boyfriend's concert after he teased a possible proposal.
Kylie Jenner has worked hard to be supportive of her baby daddy, Travis Scott's career. She has attended numerous concerts of his and cheered him on from the sidelines. At a recent concert, she was spotted rocking a stylish blazer dress while doing just that.
On Thursday night, Kylie Jenner was spotted strolling into The Forum. She was attending two of Travis Scott's Astroworld concerts in Los Angeles.
The 21-year-old reality star who is known for her makeup line and stunning fashion choices did not disappoint fans. She looked chic in a pinstripe blazer dress.
She paired her black and white dress with a simple pair of white Nike sneakers. She kept her makeup as simple as possible rocking her signature nude liquid lipstick.
To tie it all together, the 21-year-old reality star also sported a lengthy blonde wig. She styled the wig into loose beach waves.
Kylie's best friend, Jordan Woods, accompanied her to the show. She snapped a pic of Kylie in the VIP box during the concert.
Kylie then shared it on Instagram. The KUWTK star captioned the image with three black heart emojis and tagged her boyfriend, Travis.
Travis's tour has been extremely eventful and sparked many possible proposal rumors. Earlier on in the tour, he hinted that he might be thinking about marriage.
Travis gave a shoutout to Kylie and their daughter Stormi during his Astroworld Fest concert. During his shoutout, he referred to Kylie as his 'beautiful wife.'
"I think the way I look at life has changed since becoming a mum. I think more of the future. I used to live each day as it came, and now I look at the future more." said Kylie regarding her relationship with Travis
Ellen Degeneres even helped stoke the flames. She called Kris Jenner Travis' 'mother-in-law,' which only added to the speculation that the couple either got engaged or married in secret.
Please fill in your e-mail so we can share with you our top stories!