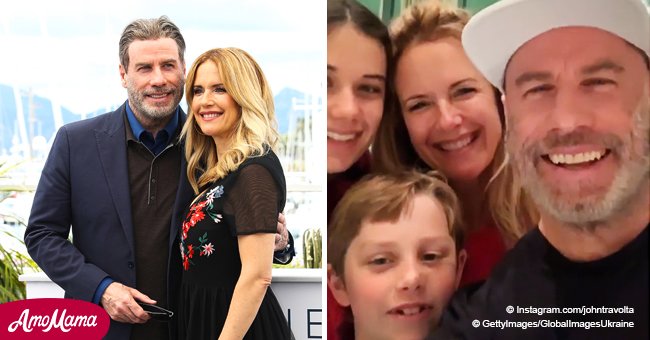 John Travolta rounded up his entire family to record a Christmas wish for fans
"Grease" star John Travolta shared a sweet Christmas video of his family with Instagram fans.
John Travolta, like many other stars, posted Christmas greetings for his fans and followers on social media.
But where most posted a photo, Travolta made a special video with his family in front of his Christmas tree and posted it on Instagram.
A MERRY CHRISTMAS FROM "SATURDAY NIGHT FEVER" STAR
In the clip, Travolta is surrounded by his family; his wife, his daughter Ella Bleu, 18, and son Benjamin, 8.
The video was probably shot at his home in Ocala, Florida, on Christmas day and shows the star wearing a baseball cap and a wide, happy grin.
The Travolta family is close-knit, with mom Preston and daughter Ella vying for the top spot as the family beauty.
HOLLYWOOD STAR IS A FAMILY MAN
Travolta, 64, has been married to his wife, actress Kelly Preston, 56, for 27 years. The actor is a dedicated family man, and frequently posts photos of his activities with his younger son, Benjamin.
A FAMILY TRAGEDY HAUNTS THE TRAVOLTAS
Benjamin is the couple's third child. Their eldest son, Jett, passed away in 2009 at the age of 17. The family was on a holiday in the Bahamas when Jett succumbed to a seizure. Benjamin was born in 2010, and never met his big brother.
The Travolta family is close-knit, with mom Preston and daughter Ella vying for the top spot as the family beauty.
Merry Christmas to the star and his family, and a Happy 2019.
Follow us on Twitter Amomama USA for more exciting news and stories.
JOHN TRAVOLTA SHARED PHOTO FROM HORROR MOVIE
John Travolta shared a throwback photo from his early career in Hollywood, from the set of Brian De Palma's "Carrie."
Back then, Travolta was a 22-year-old actor who had yet to make his mark and become the screen idol he was destined to be.
Travolta landed his breakthrough role in De Palma's 1976 adaptation of Stephen King's best selling horror novel, "Carrie," about a bullied outcast who turns out to possess supernatural powers.
And Travolta played bully Billy Nolan who torments the titular character into massacring her entire high school at prom.
The photo shows an impossibly young Travolta with Sissy Spacek Nancy Allen and William Katt, and is captioned:
"On the set of #Carrie over 40 years ago. I don't think any of us could have known the life the movie would take on for decades…or how many times we'd have to explain to our families the blood was actually corn syrup!"
but his first significant movie role was as Billy Nolan, a bully who was goaded into playing a prank on Sissy Spacek's character in the horror film Carrie (1976).
"Carrie" was remade in 2013, but failed to outdo its predecessor and was not a success in the box office or with the critics.
In a related story, "Grease" stars John Travolta and Olivia Newton showed off their boogie moves on the red carpet after 40 years.
Please fill in your e-mail so we can share with you our top stories!