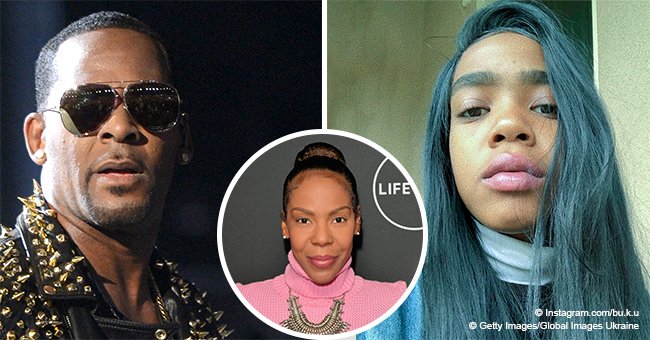 R. Kelly reportedly believes daughter Joann has been brainwashed by his ex-wife to hate him
R. Kelly thinks his ex-wife Andrea Kelly was responsible for their daughter's recent remarks against him. He is reportedly not upset at Joann who he believes was brainwashed by her mother.
In the midst of the drama surrounding his alleged sexual abuses of minors which was highlighted by the release of a docuseries, R. Kelly believes his daughter who recently broke her silence about the issue is speaking in behalf of his bitter ex-wife.
HIS DAUGHTER'S HEARTFELT MESSAGE
Kelly's daughter, Joann Kelly, aka Buku Abi, shattered years of silence when she took to her Instagram Story last week to air her side regarding the controversy surrounding her father.
In a heartfelt message that she admitted took three days for her to compose, Joann explained why she remained quiet all these years when her father was being accused of sexual crimes and why she finally decided to speak up today after the release of the six-part documentary "Surviving R. Kelly."
She acknowledged the devastation she's feeling having to face the issues being thrown at her father and explained that she chose to be silent for her own emotional healing. However, she didn't deny his sins. In fact, she said she was aware of what a "terrible father" and a "monster" he was.
KELLY'S RESPONSE
Following his daughter's lengthy outpour, Kelly's camp revealed the singer isn't mad at Joann but believes she's been brainwashed by her mother, Andrea Kelly. Andrea reportedly hates him and made sure their three kids despised him as well.
THEIR SEVERED RELATIONSHIP
Joann also shared in her post that she's had no relationship with her father for a very long time, a fact that Kelly seems to be ignoring despite claiming he misses his children.
The last time Kelly was was with Joan was during a music collaboration in 2015. However, Andrea allegedly came between them after that and refused to allow Kelly near their daughter. She was reportedly upset at Joann for spending time with him at the studio.
A couple of years ago, Andrea took the kids to see Kelly's concert in Atlanta. This would be his final contact with them after Kelly did little to amend their strained relationship.
THE DOCUMENTARY THAT HURT KELLY
Andrea was one of many who backed the docuseries, "Surviving R. Kelly" that shed light on Kelly's sexual exploits with minors. Several women came forward in the show accusing the singer of sexual abuse and reeling them into his sex cult.
The explosive Lifetime series spawned a backlash that saw the public condemning the singer. Recent reports reveal Kelly was admitted to the hospital due to panic attacks stemming from the heat he's been getting lately.
Please fill in your e-mail so we can share with you our top stories!