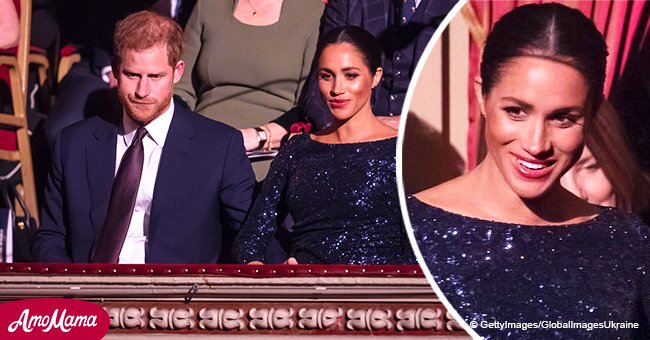 Meghan Markle and Prince Harry caught having an adorable PDA moment in a sneakily recorded video
Prince Harry and Meghan Markle are not afraid to give in to public displays of affection every once in a while.
The Duke and Duchess of Sussex attended the premiere of "Totem," a Cirque Du Soleil production, in London earlier this week.
Meghan looked ravishing in a sparkly Roland Mouret gown, while Harry looked dapper in a dark navy suit, white shirt, and tie.
CASUALLY HOLDING HANDS
The soon-to-be parents were caught on camera holding hands. The adorable gesture is so natural but still has fans talking.
Meghan simply reached over and took hold of Harry's outstretched hand before settling in and making herself comfortable.
She also paid homage to the late Princess Diana by wearing a delicate gold bracelet that once belonged to Harry's mother.
Fans from all over the world agree with one of their mutual friend's assessment of the relationship. Bryony Gorden told the media:
"[They are] so adorable. I saw them recently and genuinely lovely, happy, you know, first flushes of love, first year of being married. I'm like, just you wait!"
A FULL SCHEDULE
Earlier this week, the couple attended an event in Birkenhead and didn't shy away from public displays of affection then either.
Meghan visited her new patronage in Mayhew, a charity that supports therapy and guide dogs. She even played with a few puppies.
She spent time with the women working at the charity, and laughed it off when one of them called her a "fat lady."
FRUGALLY FASHION FORWARD
The Duchess also made a statement of another kind when she showed up in a $35 H&M Mama maternity dress.
She was praised for once again proving that one does not need to spend thousands of dollars on an outfit to be elegant and stylish.
Meghan's schedule has not yet been confirmed, but she will also pay a visit to the National Theatre in the near future.
Please fill in your e-mail so we can share with you our top stories!