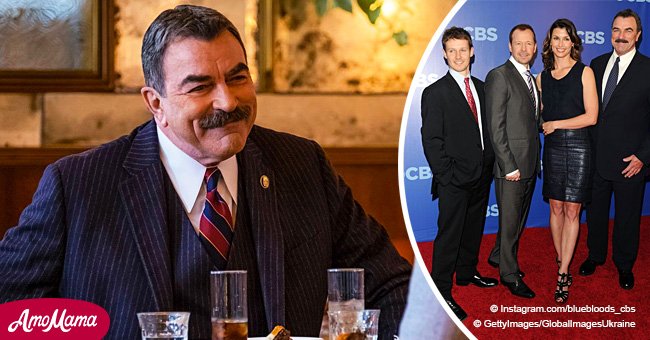 Tom Selleck reportedly hints at upcoming 'Blue Bloods' wedding in new revealing interview
"Blue Bloods" star Tom Selleck revealed an important detail about how his character feels about the union between Jamie and fellow police officer Eddie Janko.
Speaking in a candid interview, Selleck stated that his character of Frank Regan is "delighted for Jamie" and will definitely "get emotional" for him and Janko, played by actress Vanessa Ray, this coming season.
Although he neither confirmed nor denied the possibility of a wedding ceremony of the two characters on the show, he teased that the fans will witness some aspect of their union making Frank emotional.
As one of those on-screen relationships that the fans are highly rooting for, this teaser from Selleck should now excite the fans even more.
"I don't know whether we'll do a big wedding or whether they'll get married this season, but I can guarantee Frank will get emotional. He's delighted for Jamie."
Besides talking about Jamie and Janko's romantic future, Selleck also opened up about the romantic turn of events in Frank's life as well.
With the return of actress Bebe Neuwirth as NYPD corporate counsel Kelly Peterson, several fans suspect that the chemistry between her and Frank may be taken to the next romantic level.
However, Selleck denied this possibility by stating that many people think that Frank "must be lonely." He further explained, "It's important he remains a man alone in overall concept because that's part of the sacrifice he's made."
During the interview, Selleck also talked about what keeps things fresh and interesting for him as the show approaches its 200th episode.
The actor explained that the show is character-driven, which is why they are always evolving into their roles.
So what keeps the show fresh for the audience as well as the actors alike is the changing dynamics of relationships between the characters.
"And that's always a danger — misunderstandings, disagreements, things going sideways. Sideways is good for us," Selleck told TV Insider.
Selleck has impressed his fans for around nine years playing the popular NYPD commissioner Frank Reagan on the show, "Blue Bloods."
Last year, the 73-year-old actor also announced his next big project during an exclusive interview. Selleck stated that he was working on his autobiography, which would make several other revelations about his life.
Please fill in your e-mail so we can share with you our top stories!