Patient parrot lets newborn puppy cuddle with him in this cute video
Animals' innocence makes it possible to form some unusual friendships among them, as is the case of a tender puppy and a parrot.
Like Snoopy and Woodstock, we have seen several cases in which puppies and domestic birds become best friends and can coexist in total harmony within the homes of their owners.
And once again a tender friendship between a puppy and a parrot has been captured in a video that has already gone around the world, captivating millions of users in social media.
Read more on our Twitter account, @amomama_usa.
In the images that were made viral, it shows how an adult parrot behaves in a quiet way next to a puppy that seems to have very few days of life because he has not yet opened his eyes.
In the video, you can see how the parrot does not put up any resistance so that the newborn puppy huddles next to it, looking for the warmth of its feathers.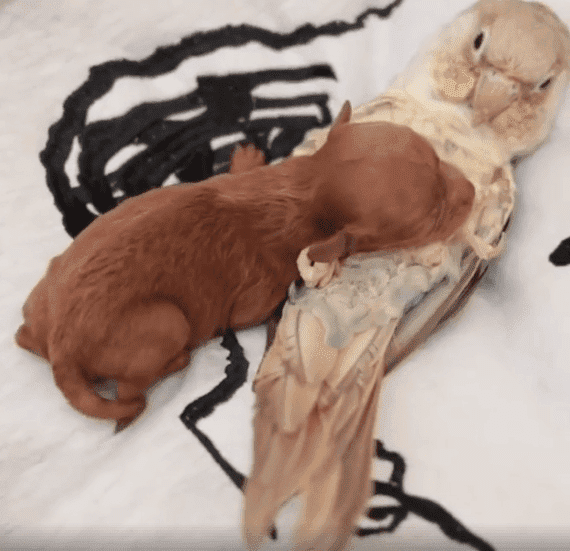 The bird is lying on its back, very still so as not to frighten the baby, while the puppy huddles next to him looking for warmth and protection.
The little dog, meanwhile, at first does not seem to find the ideal position, until after listening to his heartbeat and find the most comfortable part in the chest of the parrot, supports his little head and enjoys peacefully of the moment.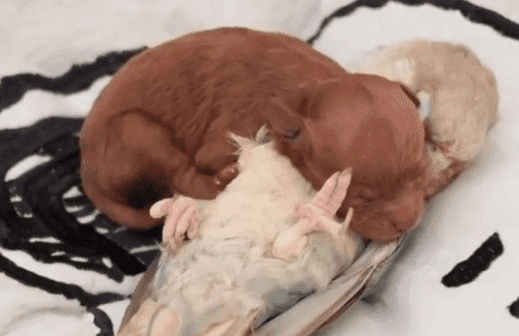 Finally, the puppy rests his head on the chest of the parrot and the bird also seems to enjoy the tender moment with who probably becomes his best friend.
This image of both huddled animals is undoubtedly the most tender manifestation of love and protection that may exist between species, and a clear example of their noble heart.
This is another of those diverse occasions in which animals very different from each other have given us great lessons that for a powerful and deep friendship there are no barriers or differences that are worth.
Parrots are incredibly smart animals, other birds like cockatoos can be a great pet and a great company. If you teach them well, you can sit down and talk to one of them. But if you prefer to teach them badly, you'll be surprised by how naughty they can get.
When you see this y cockatoo named Miss Pebble having a tantrum because her master orders her to enter the cage, you will know perfectly well what we are talking about.