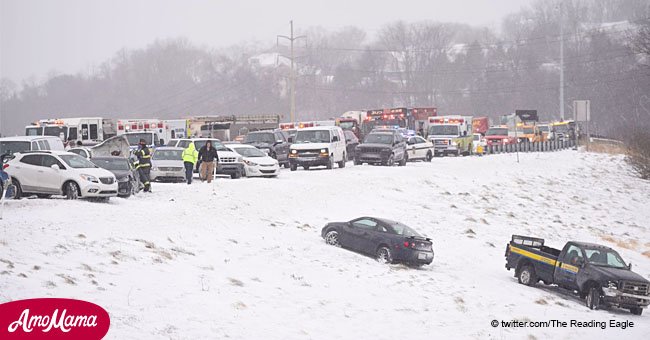 Dozens of cars stuck in 'large pile up' on Route 222 during snow squall in Wyomissing
The treacherous snowstorm on Route 222 in Wyomissing caused a major accident on Wednesday. At least 27 vehicles were involved in the car-pileup.
A number of people have since been taken to the hospital with some of them being in critical condition.
During a press conference at the Spring Township Fire and Rescue Services building, Wyomissing police Lt. Thomas D. Endy revealed more about the accident. He said, "First and foremost our thoughts are with the victims of the crash."
The lieutenant shared that 15 victims were evacuated from the scene. Two of the people were in critical condition while nine more were transported to Reading Hospital.
Eight people were taken to the Spring Township Fire and Rescue Services building on West Wyomissing Boulevard, near Owls Field for reunification. At around 1:20 p.m., emergency crews were dispatched to Route 222 because of an accident in the southbound lane at the Penn Avenue exit.
Endy said, "Officers arrived on scene to find 27 vehicles involved in the crash and including two tractor-trailers." He added, "When we first got there, the weather at the time there was a snow squall coming across the bypass from the west."
He described the weather condition on the road saying, "The road was covered with snow at that point." The Wyomissing and Spring Township police departments, the Pennsylvania State Police, and multiple fire and EMS departments all assisted at the scene.
First responders to the scene were able to quickly remove the victims from their vehicles and reopen the highway within three hours. The lieutenant added, "Fortunately, we have great cooperation between our first responders We work well together every day."
The pile-up occurred just as Spring Township police Chief Bryan Ross and Lt. Joe Shivers were on their way back from lunch. Shivers said, "It was pretty much a complete whiteout. It was blowing horizontal and I could barely see the back of a truck slowing down."
A car flew past the two on their right and barely missed hitting the SUV they were driving. When things settled, the pair started helping the victims.
Shivers said, "There seemed to be quite a few people hurt." If the two had arrived a few seconds earlier, they would've been involved in the accident.
Endy has asked anyone who witnessed the accident to contact the Wyomissing police at 610-375-6102.
The bus company BARTA generously sent out two buses to transport non-injured motorists from the crash. They were all taken to a shelter at the Spring Township Fire and Rescue building.
Please fill in your e-mail so we can share with you our top stories!