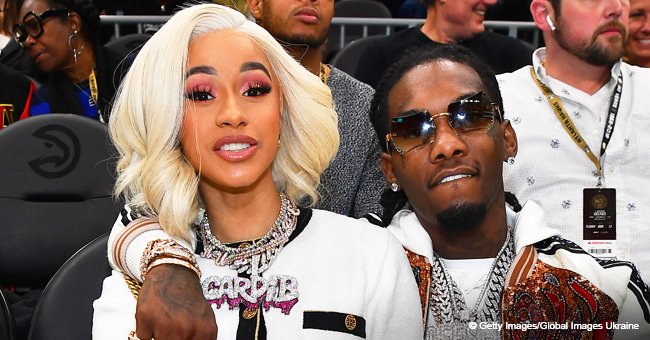 'Why ya be lying,' Cardi B responds to rumors she and Offset are back together

Cardi B denies reconciling with Offset and accuses an entertainment news site of lying about her returning home.
Cardi B addressed the recent rumors of her reconciliation with Offset and established that they are just rumors.
The singer responded to TMZ's claims that she and the father of her child and husband of one year are back together by tweeting her denial.
"TMZ why ya be lying" she wrote in a tweet that has since been deleted.
Cardi added that she hasn't been in Atlanta since the holidays debunking the publication's claims that "she and Offset are under the same roof."
DETAILS OF THE ALLEGED RECONCILIATION
On Wednesday, the popular entertainment site reported that a source close to the pair revealed the singer is moving back to the Atlanta home she shared with Offset prior to their breakup. The rumors seem to have been validated by a tweet Cardi made saying "I wanna go home."
Sources also disclosed that the reconciliation came with conditions including a "no groupies" rule to be implemented during the Super Bowl weekend. Offset reportedly agreed to keep female fans away from him during the sports event.
THEIR SEPARATION
Cardi and Offset ended things between them in December with Cardi releasing a video announcing the split. She blamed the end of their marriage to the natural progression of growing out of love. However, suspicions are high that it also had something to do with Offset's infidelity issues.
OFFSET'S BOTCHED ATTEMPT AT WOOING CARDI BACK
Two weeks after Cardi made the announcement, Offset tried to win her back publicly by surprising her on stage while she was performing. The Migos singer appeared with a bouquet of white flowers and told her "I'm sorry" in front of the audience before telling her he loved her. His plan backfired with Cardi telling him, "I'm not having it." Offset walked off the stage with his flowers and a broken heart.
The pair welcomed their daughter Kulture in July. Though a reconciliation appears to be off the table right now, Cardi has maintained in the past that she will always harbor love for Offset as the father of their child.
Please fill in your e-mail so we can share with you our top stories!