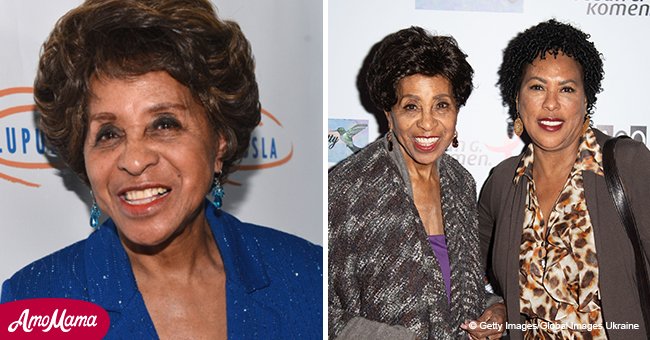 Marla Gibbs' daughter is all grown up and inherited her appearance, aspiration, and positivity

Marla Gibbs' daughter is all grown up and inherited her appearance, aspiration, and positivity
The talented Marla Gibbs has been blessed with a daughter as talented as she is and with whom she can share her greatest passion; the acting.
Gibbs has had more than 50 years of artistic career in which she has stood out as an actress, singer, TV producer and as if that were not enough, she has also been nominated five times for the Emmy Awards.
In addition to her long career, Gibbs formed a family from a very early age by marrying her school boyfriend Jordan Gibbs. The couple apparently had a turbulent relationship and after 18 years of marriage, Marla decided to end their relationship.
Despite the hard times they must have lived, the couple had three children together: two sons, Dorian Gibbs and Joseph Gibbs, and a daughter, Angela Gibbs. Although not much is known about the children of Marla and Jordan, her daughter Angela inherited the undoubted talent of her mother.
Angela is not only the living image of her mother, but she has also followed her steps very closely. She inherited much more than her mother's talent; Angela also inherited her greatest attributes: her aspiration for life and her contagious positivity.
In addition to standing out as an actress, Angela is a writer, acting coach, director and producer as well as her mother. Many will remember her for her participation in the television show Sanford and Son, or for the films in which she has participated as "Drumline", "Think Like A Man Too", "Together Brothers", and "Black Jesus."
However, one of the works in which the daughter of Marla has most stood out has been in the theatrical production. She has even been awarded twice in the NAACP Image Awards thanks to the two Broadway plays, "Checkmates", and "The Meeting."
Recall that Marla received the same award in eight opportunities and has received several awards throughout his career, including the Essence Woman of the Year.
Definitely, Angela is a pride for Marla. And is that few parents have the joy of sharing their passion with one of their children and also see them be so successful.
Marla has also been an inspiration to other women in the industry besides her daughter. Regina King, who has worked as an actress for decades and is a director, uploaded photos on Instagram to honor Marla Gibbs on her birthday.
One of the images showed a very young Regina hugging 'Mama' Marla from behind when they were working together on the sitcom "227". The photo showed how happy both actresses were as well as the special bond they shared.
Please fill in your e-mail so we can share with you our top stories!