Cardi B and Offset's divorce is reportedly off and they are allegedly back together
Cardi B and her estranged husband Offset have reportedly reconciled and are back together as a family. The Migos rapper is also said to be making a few changes in his lifestyle to protect their marriage.
Cardi announced last month that she and Offset called it quits and hinted at a divorce, saying "it might take a little while," but according to TMZ, there's a new status quo.
Sources close to the outlet say that the "Money" rapper is back home in Atlanta with her husband and their six-month-old daughter, Kulture.
According to TMZ:
"This is the first time she's been back to stay there with Offset and Kulture since December."
Cardi, 26, may have hinted at the reconciliation some days ago when she shared an Instagram Story with "I wanna go home" superimposed over a photo of Offset kissing Kulture.
The "Ric Flair Drip" rapper is also said to be making a lot of lifestyle changes to prove to Cardi that he is serious about their marriage.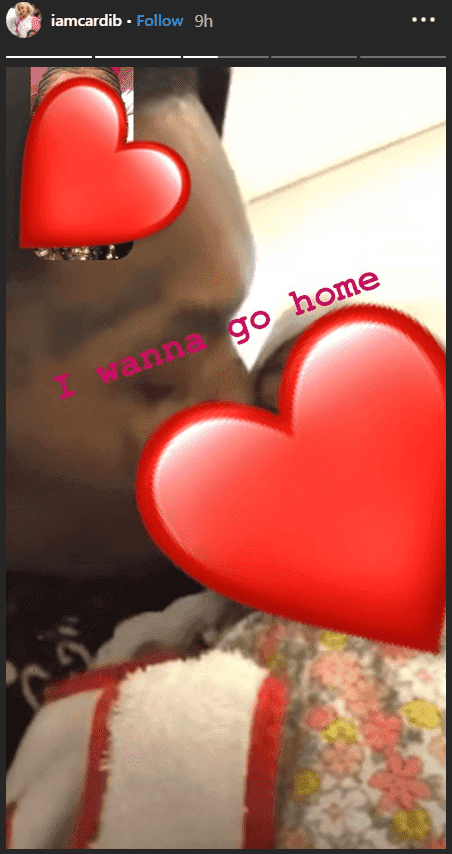 Offset, who has been accused several times of infidelity, has reportedly changed his phone number "in order to show Cardi he's serious about being honest and faithful." The new number will only be known to Cardi and business contacts.
Offset, 26, is also said to be staying away from groupies and has decided not to let any female fans come close to him during his upcoming Super Bowl appearances in Atlanta.
A little more than a year after their secret September 2017 nuptials, Cardi took to Instagram to inform fans that things didn't work out between her and Offset:
"Everybody been bugging me and everything, and you know I've been trying to work things out with my baby father for a hot minute now, and we're really good friends and you know, we're really good business partners—you know he's always somebody that I run to to talk to, and we got a lot of love for each other but things just haven't been working out between us for a long time. It's nobody fault. It's just like, I guess we just grew out of love, but we're not together anymore. I don't know it might take time to get a divorce, and I'm going to always have a lot of love for him because he is my daughter's father."
Meanwhile, Cardi has publicly slammed the latest reconciliation report. "TMZ why ya be lying," she wrote in a now-deleted tweet.