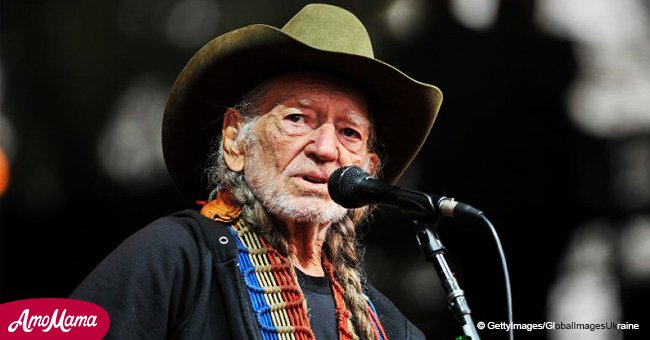 Moving story behind Willie Nelson's iconic Christmas song 'Pretty Paper'

Willie Nelson's classic song "Pretty Paper" has stood the test of time, with so many artists like Chris Isaak, Orbison recording their covers of the song.
The musical piece is a perfect blend of harmonies and has a way of putting one back into the holiday spirits. It is indeed one song that moves the soul.
Lots of people have no idea there is a story behind this classic holiday piece. In the 1960s, Nelson was walking on the streets of downtown Fort Worth, Texas when he saw a disabled street vendor selling colorful papers, pencils, and ribbons. This man had his leg amputated from his knees. While he kept on with his day to day activity, this man kept shouting "Pretty papers! Pretty ribbons!"
Now, listening to the lyrics of the song, it would be easy to deduce the story of the vendor.
"crowded street, busy feet, hustle by him, Downtown shoppers, Christmas is nigh, There he sits all alone on the sidewalk, Hoping that you won't pass him by."
The chorus of the song:
"Pretty paper, pretty ribbons of blue wrap your presents to your darling from you pretty pencils to write I love you Pretty paper, pretty ribbons of blue,"
The touching scenario inspired him to write the song.
Now, Nelson wrote a Christmas novel, titled Pretty Paper, based on this particular touching story of the disabled vendor. According to him; It had always been on his mind ever since he penned down his memoir, It's a Long Story: My Life back in 2015.
Willie teamed up with David Ritz who helped him write his memoir, and the duo created a beautiful story revolving around this childhood memory inspired by such raw emotions years back, hoping to get the same reactions from the public.
The novel, according to sources, is the musician's way of giving the disabled vendor a name, and a mark on history. And not only that, the legend who is fond of singing alongside his son, Lukas Nelson dished out his struggles and life experiences; what it was like being a musician in the sixties and living in Texas.
He hoped to give each reader an enjoyable ride by making sure he made the book the best possible. If you are wondering how the story of the vendor ends; Willie Nelson gives a befitting and a happy Christmas to the vendor.
The novel was released just in time for Christmas in 2016.
Please fill in your e-mail so we can share with you our top stories!