Diddy sparks concern with his new look in recent video amidst ex Cassie's new romance
Diddy recently unveiled a new look, but many fans are worried that something is wrong, even as his ex-girlfriend of 11 years continues to show off sizzling romance with her new man.
2018 came with some pretty rocky moments for Diddy, especially towards the end of the year. The music mogul broke up with Cassie in October, and the singer wasted no time bouncing back with a new man.
Also, by November, Diddy, 49, faced one of his biggest tragedies. Kim Porter, the mother of three of his children who he dated on and off for 13 years, died of Pneumonia on the 15th.
Diddy's grief was largely documented on social media, and there were times he asked fans online to pray for him and his family.
So when the father-of-six shared a video of his new look that was unlike his usual groomed appearance, folks got worried.
Diddy showed off a salt-and-pepper beard, saying:
"I want y'all to know now that I do this too. I got many styles. I can hit you with this too. Scruff Puff. Sending love to the world."
But not many fans were focused on Diddy's "love." Instead, they speculated on his wellbeing. While some said he was thinking about Cassie, others suggested that Diddy was still missing Porter.
FANS GET WORRIED
The Shade Room reposted the "Bad Boy" founder's video, asking followers their opinion about "Scruff Puff," but they got the same worrying comments.
"You look like you stressing over Cassie ~@Xxopzxx
"NOOO SCRUFF PUFF... your not there yet... too young to sport that! Be young and fly please." ~@landakins
"He stressed, clearly you can tell he's been drinking! This ain't about no Cassie, this is all about Kim!! He misses her like hell and he didn't always do right by her and now she's gone, and it's messing him up mentally!! You never miss a good thing till it's gone" ~ @1cutern
LOSING PORTER
Diddy started dating Porter in 1994, adopting her young son from a previous relationship, Quincy Brown. Together, the couple went on to have three more children, 20-year-old son, Christian, and twin girls, Jessie and D'Lila, 12. With other women, Diddy has two more children, Justin and Chance.
Porter and Diddy's tumultuous relationship finally came to an end in 2007, but the two remained close friends, and Diddy could not hide his devastation when she died.
CASSIE MOVES ON
While Diddy mourned, Cassie offered him some support, fueling rumors of a reconciliation, but when the "Me & U" singer, 32, went Instagram public with her new beau, Alex Fine, on December 30, the status quo was defined.
Even when rumors were rife that she started dating Fine before breaking up with Diddy, Cassie continued to flaunt her relationship with the fitness trainer/bull rider.
"THIRSTY" TRIP TO THE PAST
Fans may have cause to worry about Diddy or speculate that he's missing Cassie. He recently commented with a love-struck emoji on a photo of Jennifer Lopez, who he dated in the past. Alex Rodriguez, Lopez's current boyfriend, quickly fired off an indirect response to Diddy.
"Lucky me," Rodriguez wrote, not-so-subtly staking his claim.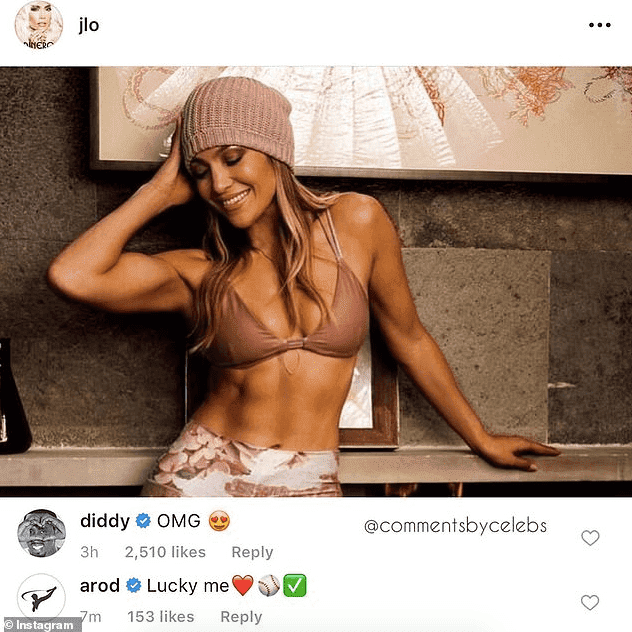 Meanwhile, Diddy is yet to respond to fans who are worried about him.