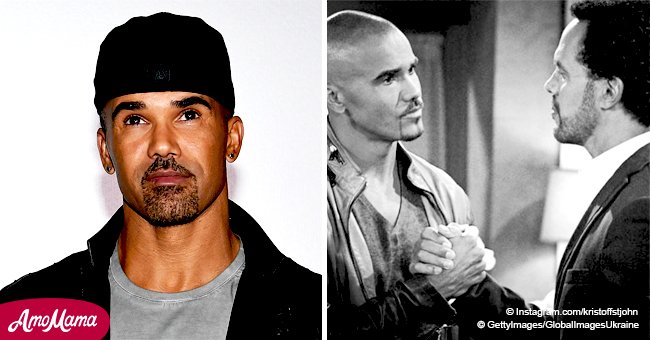 Shemar Moore cries while paying tribute to his late 'brother' Kristoff St. John

Heartbroken Shemar Moore paid an emotional tribute to his former costar and close friend, Kristoff St. John who died on February 3, 2019.
The late 52-year-old Kristoff and Shemar starred together on "The Young and the Restless", where Shemar played Kristoff's half brother, Malcolm Winters, since 1991. Grieving Shemar said:
"I lost my brother yesterday. I've never had a brother, but you were my brother. You showed me the way. You were my mentor, my inspiration. You showed me what true talent was. You showed me what humility was. I love you. I hate this. I love you, but I'm going to celebrate all your good."
48-year-old Shemar added in the tribute video that Kristoff should be celebrated by "The Young and the Restless" fans as an "iconic black man" in daytime television.
Taking a trip down memory lane, Shemar also shared pictures of himself and Kristoff back in the days they starred together on "The Young and the Restless."
A star in shows like "S.W.A.T" and the long-running series "Criminal Minds," Shemar credits his success to Kristoff as he said during an interview with PEOPLE:
"Without Kristoff St. John, there's no Neil Winters. Without Neil Winters, there's no opportunity for Malcolm Winters. And without Malcolm Winters, there's no Shemar Moore. And if Shemar Moore didn't get my chance to try on The Young & the Restless, then I don't sit here today with let alone this career or this life. Not in this way. I told him in the beginning because he embraced me the way he embraced me is the only reason that I have the life and career that I have."
But through his actions, Kristoff not only helped pave the way for Shemar but many Hollywood actresses and actors, as the "Criminal Minds" star elaborated:
"He opened doors for me and many. He opened doors for people who don't even realize he opened doors, but he did. He opened doors, and he was so committed to his craft. He always wanted to be better. He wanted to touch people, and he did."
According to information the coroner's office shared with PEOPLE, Kristoff died at his home in Woodland Hills on Sunday. A friend went to check up on Kristoff on Sunday and called authorities after discovering his body.
An investigation by the Los Angeles Police Department into Kristoff's death started around 2:05 pm, for a possible alcohol overdose at the 2300 block of Morea Way. At 4:02 pm, Kristoff got pronounced deceased.
"The Young and the Restless" star's fiance, Kseniya Miklaleva took to Instagram and shared heartbreaking disbelief:
"How did it happen ??? How ??? Why did you leave so early ???? and left me alone ..... I can't believe," she wrote Monday. "You were everything to me .... you were a loving father, a loving man,.....how love?? we should be doing a lot of things in future......"
Kseniya and Kristoff got engaged in September 2018 after dating for less than a year, and it was just a short while ago they celebrated New Years together.
The soap opera star got best known for his role as Neil Winters, which he played for almost 30 years on "The Young and the Restless." In 1992 and 2008, Kristoff received Daytime Emmy Awards and starred with Shemar on the show from 1994 to 2005, and in 2014.
However, this soap star who made his television debut at age seven also raked in several award nominations over the years. In the years, 1993, 1999, 2000, 2007, and 2015, Kristoff got nominated as the best-supporting-actor playing Neil Winters on "The Young and the Restless."
January 21 marked the fourth anniversary since Kristoff's son, Julian committed suicide. Possibly pointing to where Kristoff's thoughts were at, was this last message on Twitter, which was a retweet that read:
"Grieving the loss of a child is a process. It begins on the day your child passes and ends the day the parent joins them."
In response, Kristoff replied:
"Never a truer word was spoke. Thanks for posting this."
Our condolences to the family and friends! May everyone remember Kristoff for all the lives he changed and the joy he brought so many, including all his fans and co-workers at CBS and Sony pictures who also shared a tribute to the late and great Kristoff St. John.
Please fill in your e-mail so we can share with you our top stories!