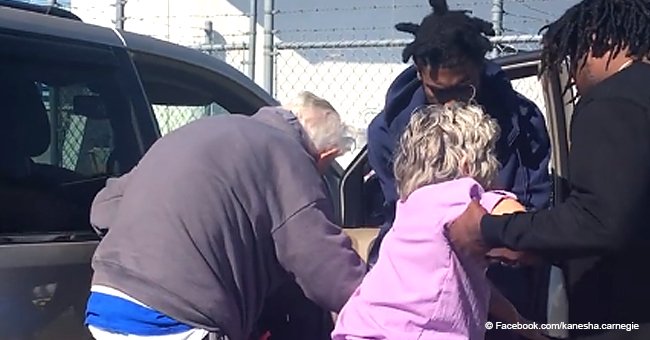 Touching moment when 3 young men help 100-year-old man and his wife get into their car goes viral
Officer Kenesha Carnegie from the Levy County Sheriff's Office in Bronson, Florida, filmed three young Black men helping a senior woman get in her car.
In the clip, 100-year-old David appeared next to his 89-year-old wife Rose helping her get into the vehicle. Two younger men were in front of them, too, to make sure that they wouldn't trip and fall.
At some point, the lady almost fell, but the young men held her up. A third person helped and moved the walker so that it was easier for the men to get Rose into the vehicle.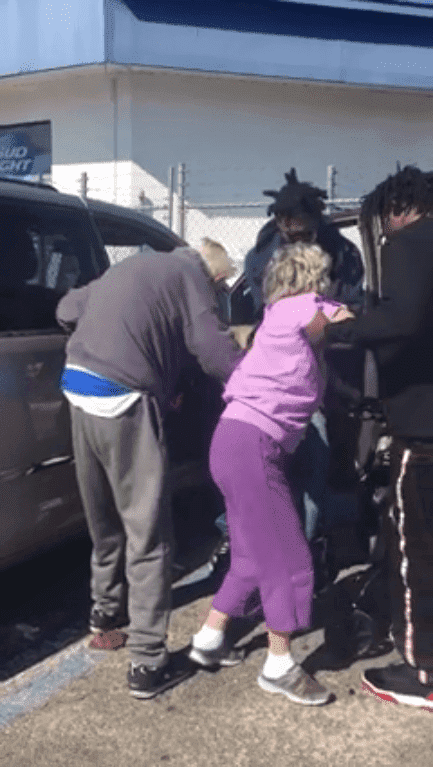 Joc Koe Stoe, Marty, and Freddy G. helping Rose and David | Source: Facebook/Kanesha Carnegie
MORE DETAILS OF THE EVENT
When the two men finished helping Rose, the third one gave the walker to David who said, "thank you fellas! I'm 100 years old" and walked to the driver's seat. The video is so uplifting that it has more than five million views in less than two weeks.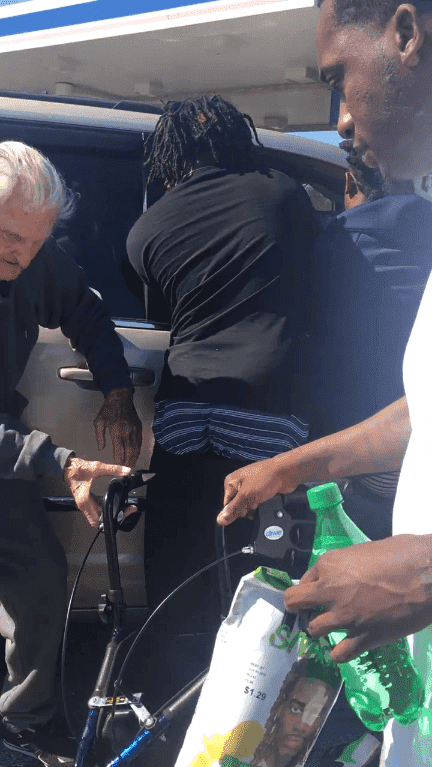 One of the men giving David the walker | Source: Facebook/Kanesha Carnegie
Due to its popularity, Yahoo Lifestyle contacted officer Kenesha, who revealed that the elderly couple was going back home from Perry to Orlando, where Rose had a medical appointment.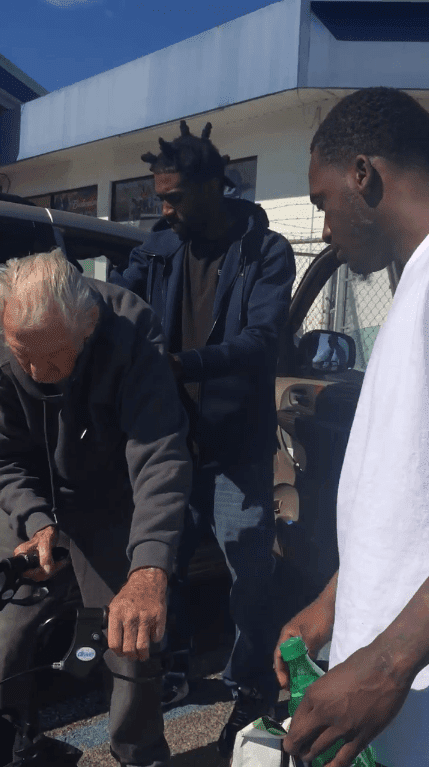 David walking back to the driver's seat | Source: Facebook/Kanesha Carnegie
However, David stopped at a gas station because they needed to use the bathroom. When they were heading back to the car, the three young Black men approached them to help.
KENESHA AND MARTY'S POINT OF VIEW
The officer recognized the men; they were "Joc Koe Stoe, Marty, and Freddy G." Later, she asked for permission to record the beautiful act and later uploaded to her Facebook page.
"I know these men from the neighborhood, and I wanted them to have that moment to show who they really are," admitted Kenesha. Marty, a member of the group, also told Yahoo what happened from his point of view.
"We didn't even ask if they needed help — we felt comfortable giving them a hand right away," revealed the 30-year-old rapper who was buying chips and soda with his friends. "I kept thinking, 'she could have been my grandmother.' 100 years old is a beautiful life."
MORE HELPFUL PEOPLE
Thankfully, those three men are not the only ones willing to help elderly people. Then eight-year-old Maurice was in his parent's vehicle going home when he noticed that an old lady with a walker was having a difficult time walking up the stairs.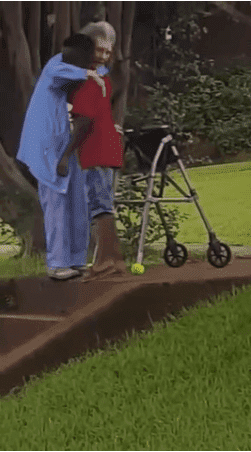 The senior lady hugging Maurice | Source: Facebook/Riley Duncan
Contricia Hill, Maurice's mother, confessed that, as soon as her son saw the lady, he asked his mother if he could go and help her. When Contrice said yes, he jumped out of the car and gave the woman a hand regardless of the vehicles waiting behind.
Luckily, someone from one of the cars waiting for them recorded most of the beautiful action. Maurice helped the senior woman to hold up and push her walker while also serving as support for her to take the steps.
The woman then looked at the boy as if she was surprised yet grateful for getting his help. Once they were at the end of the stairs, they shared a hug, and the boy ran back to the vehicle.
Please fill in your e-mail so we can share with you our top stories!