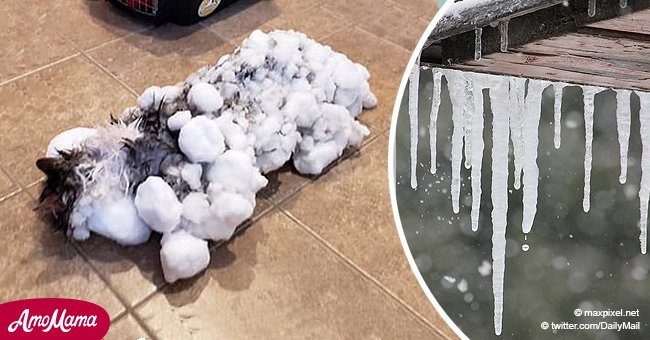 'Essentially frozen' cat found buried in the snow after cold snap was revived by vets
A cat was miraculously revived after being found literally frozen solid in a Montana snowdrift.
The horrified owners of a cat from Kalispell, Montana found their pet in a snowbank, frozen solid.
The kit, by the name of Fluffy, was covered in snow, with ice clumped onto her long fur, and encasing her paws. Only a miracle could save her.
CAT WAS FOUND UNRESPONSIVE IN A SNOWBANK
Fluffy's desperate owners took her to a vet, after finding her buried in a snow bank in 10º F weather - equivalent to a bone-chilling -12º Celcius.
Anyone seeing Fluffy covered in ice and unresponsive would have given up hope, but her owners knew she was a fighter.
Fluffy was transferred to the ER of an animal hospital, where heating pads were applied to raise her temperature
A DESPERATE FIGHT TO SAVE FLUFFY'S LIFE
Fluffy's owners took her to the Animal Clinic of Kalispell, where Dr. Jevon Clark examined her. The cat's body temperature was so low it didn't register on the thermometer, and Dr. Clark knew he had a fight on his hands.
BRINGING FLUFFY BACK TO LIFE
Dr. Clark started warming Fluffy up slowly with warm water and blankets, and after two hours the cat started reviving.
Dr. Clark explained that a cat's body temperature is normally around 101 degrees, and at that stage, Fluffy's was still to low.
A MIRACULOUS RECOVERY FOR THE POPSICAT
Fluffy was transferred to the ER of an animal hospital, where heating pads were applied to raise her temperature, and the cat finally started showing signs of recovery.
Fluffy was discharged and went home with her owners, happy and healthy - but missing one of her nine lives.
From now on, her owners are determined that Fluffy is going to be an indoor cat.
BUBONIC PLAGUE INFECTS CATS IN WYOMING
Wyoming authorities have revealed that another cat has been infected with the bubonic plague in the state.
This is the third such incident in the last month and has led the health department to advise people to avoid areas with rodents.
The cat was diagnosed with the plague, and lab tests performed at the University of Wyoming confirmed the presence of the disease.
Bubonic plague, or Yersinia pestis, is transmissible to humans and carried by rodents with infected fleas.
Yersinia pestis was responsible for one of the most devastating pandemics in human history, resulting in the deaths of an estimated 75 to 200 million people in Eurasia between 1347 and 1351.
In a related story, a 58-year-old British man died in a hospital almost two weeks after being bitten by a cat and infected with rabies.
Please fill in your e-mail so we can share with you our top stories!