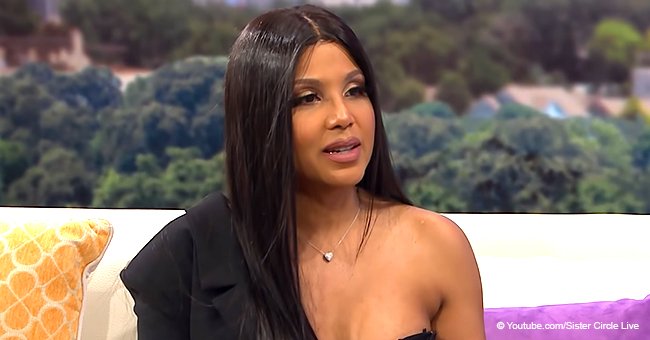 Toni Braxton confesses she regretted publicly exposing her issues about alimony payments

Toni Braxton shares that she regrets publicly exposing her issues about alimony payments during her gruesome divorce with her ex-husband.
TONI'S FRUSTRATIONS
For most of her life as a celebrity, Toni Braxton hasn't been one to share about her marital issues. That all changed last year when she underwent a painful divorce from her ex-husband. At that time, she publicly expressed her anger about having to pay alimony to her ex.
However, her anger was met with heavy criticism from fans and her ex-husband himself, and now she wishes she hadn't been so open about the whole ordeal.
Last month, the singer guested on "Sister Circle," where she discussed the episode she starred in on her best friend Jada Pinkett Smith's "Red Table Talk" Facebook Watch series.
During that episode, she infamously proclaimed that "men are the new [expletive]." It was also there that she shared a bit more about her frustrations of having to pay alimony to her ex-husband Keri Lewis, whom she was married to from 2001 to 2013. However, after receiving so much hate from her statements, she now learned that sometimes, as an entertainer, it's best to keep your personal life private.
"I think that sometimes when you talk about your personal life you probably shouldn't if you're an entertainer. It opens yourself up to have so many opinions and thoughts. Even though you're on a talk show and you're telling a little bit of your secrets or your life, no one knows the entire story. So they're kind of judging you based on whatever they come up with."
She adds that this can be tough, especially since people perceive situations based on what you show, not exactly the entire thing going on.
KERI LEWIS' PERSPECTIVE
While Braxton was angry about having to pay alimony, her ex-husband released his own statement that the alimony was actually her lawyer's doing.
"Let me start by saying that I really loved Toni… In addition, when she became ill, I did everything I could to take care of her. To give insight to the alimony payments, Toni's attorney's suggested she have a prenuptial agreement put in place prior to our wedding, and they drafted one as they saw fit."
Meanwhile, Keri didn't feel the need to have a lawyer by his side throughout the whole thing, because he believed their marriage was going to last forever. However, things took a sharp turn a decade after their marriage, and their divorce was ultimately finalized in 2013.
"Because of my love for her and being optimistic of marriage lasting forever, I didn't feel the need to have an attorney, as I wasn't going to contest anything in the prenup," he added. "Fast-forward to 2012 after separating, I moved out and at some point later, Toni mentioned to me that the payments set in the prenup would start being deposited into my account. I received alimony for around three years between 2012 and 2014."
MOVING FORWARD
Now that everything has been settled between the two exes, Toni has moved on to a new love of her life. She was previously engaged to music producer Birdman, before their quick split. In the past few weeks, however, they've proven that their love is going stronger than ever, as they hinted their reconciliation on social media, through posts and Instagram stories.
With Toni's country-wide tour going on, the two have also announced their rekindling by having Birdman join her in her shows.
Please fill in your e-mail so we can share with you our top stories!