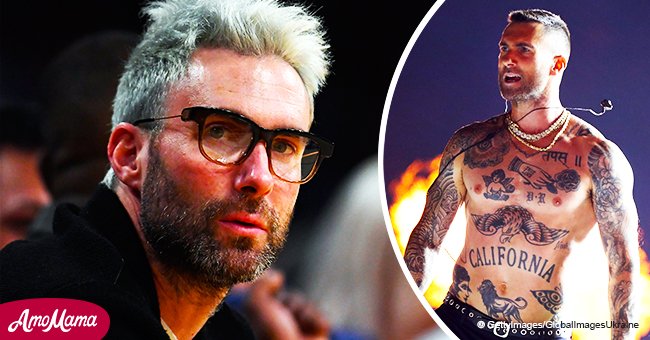 Eagle-eyed fans think Adam Levine's chest tattoo forms a word with his left nipple as the 'O'

Adam Levine performed shirtless at the Super Bowl, and fans are forming theories about his mysterious chest tattoo.
Levine stripped down for his last song of the evening and bared his tattooed chest, but fans focused on one specific piece of ink.
The 39-year-old singer has two letters tattooed on his chest, and fans can't decide if it spells out the word "bro," or if it's his daughter's initials.
TATOO DEBATES
MTV News' Terron Moore tweeted: "Guys I have REALLY tried to avoid talking about this BUT: do Adam Levine's and left nipple spell out 'bro' or am I wild?"
While Moore saw a B and an R, another user thought it was D.R, his daughter Dusty Rose's initials especially since there was a flower tattoo nearby.
Another thought it was just B.R, after his Namibian-born wife and model, Behati Prinsloo. The couple tied the knot five years ago.
Daily Mail shared a close up of the image, which proves that it is, in fact, D.R. The fans who voted on Dusty Rose may be right after all.
A CASE OF TWO NIPPLES
While the debate raged about Levine's tattoos, other online users pointed out the hypocrisy that is rife in the music industry and among fans.
Janet Jackson suffered a wardrobe malfunctions a few years ago when Justin Timberlake pulled on her garment and accident exposed her nipple.
While several music managers made a point of it to destroy Janet's career of the exposed nipple, the very same critics are quiet about Levine exposing his nipples on stage.
MULTI-TALENTED ARTIST
Before Levine made it big in the music and film industry, he worked as a writer's assistance on the then-popular TV show, "Judging Amy."
Levine is talented, but his skill set does not include waiting tables. He was fired from his first job after just three hours for getting the orders wrong.
Fans of Levine can look forward to his upcoming film appearance "Asbury Park." It is rumored that Levine was cast int he role of Will.
The film is currently in pre-production, and no release date has been set.
Please fill in your e-mail so we can share with you our top stories!