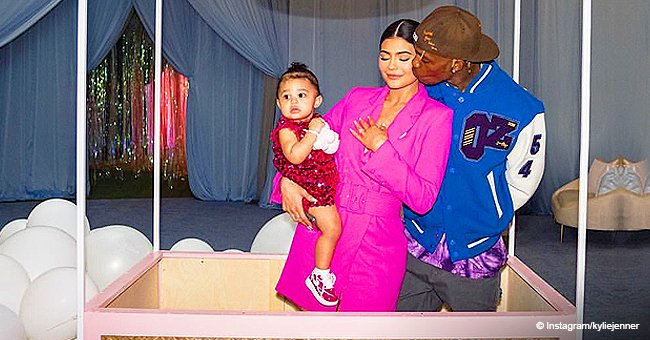 Kylie Jenner throws epic 1st birthday bash for her daughter complete with 'StormiWorld' theme park
After having the weather disrupt initial plans, reality star/cosmetics mogul, Kylie Jenner, finally threw her daughter, Stormi Webster, a lavish birthday party over the weekend. The event has since generated mixed reactions on the internet.
The Kardashian-Jenner clan is known for throwing over-the-top, cash-intensive parties and Kylie, 21, did not disappoint on Saturday as she celebrated her daughter's first year.
Stormi turned one on February 1, and after weather conditions did not let Kylie throw a party at the time, the "Keeping Up With The Kardashians" star was not about to leave any stones unturned.
PULLING ALL THE STOPS
The party started on a surreal note, as guests came in through the mouth of an imposing, inflatable head that looked like Stormi.
Kylie shared a video of the contraption on her Instagram Story, telling fans she was "pulling up to Stormi's party."
"This is insane! Stormi World!" she squealed in the background and turned the camera to capture the birthday girl's face. "You see mama?"
People holding balloons fashioned after the planet earth and inscribed with "StormiWorld" welcomed guests to the lavish affair.
MORE FUN INSIDE
Inside was an even more spectacular scenery and Kylie shared a series of pictures on social media.
There was a backdrop of unending rainbows and white clouds made out of white balloons, a ball pit where the birthday girl looked to be having the most fun, giant, pink teddy bears, a giant Technicolor ride, and favorite kids' characters like Pingfong and Baby Shark.
There was also a lot to eat and drink at the party. Mini pizzas in dainty pink boxes, French fries in Louis Vuitton bags, and pretzels linked to an umbrella made it to Kylie's Instagram Story.
Stormi's breathtaking cake was designed as a golden carousel, complete with mini horses and scenery of blue skies, green grass, and butterflies.
FAMILY & FRIENDS, PLUS GIFTS
The "Kylie Cosmetics" founder also shared a picture of herself holding Stormi while getting a kiss from her boyfriend and baby daddy, rapper Travis Scott.
The theme for their daughter's birthday was most likely borrowed from Travis' -- birth name Jacques Webster -- third album "Astroworld."
Guests at the birthday bash include Stormi's grandma Kris Jenner, her great-grandma, Mary Jo, aunts Khloe and Kourtney Kardashian, and Cousins Mason and Penelope Disick, Kourtney's kids; True Thompson, Khloe's daughter; and Dream Kardashian, Rob Kardashian's daughter.
DJ Khaled was also at the event and gave Stormi her first ever miniature version Chanel purse.
INTERNET BACKLASH
It didn't take long for Stormi's birthday to start trending on social media with the hashtag #StormiWorld and while many Twitter users raved over the epic bash, others thought it was "too much."
"Most ridiculous party of the year," one user noted. "But the Kardashian know exactly how to break the internet. This is how you become rich and famous."
Another said:
"Seeing stormiworld just shows how ridiculous rich people are."
FOILED PLANS
Kylie earlier revealed that the weather was getting in the way of her birthday plans for Stormi.
"Alright so, we were supposed to have Stormi's birthday party this weekend. It's not happening because it was supposed to rain and it's not raining anymore," she said on social media.
"It didn't end up raining, but better safe than sorry. We have all her cousins here and everybody who loves her. We're playing with farm animals."
Please fill in your e-mail so we can share with you our top stories!