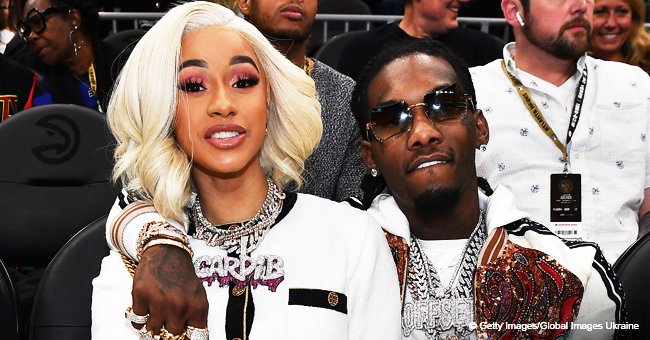 Cardi B screams while giving birth to baby Kulture in new footage shared by husband
Fans of Cardi B are getting the first glimpse into the rapper's delivery room experience last July. Her husband, Offset, shared new footage of Cardi screaming as she gave birth to their daughter.
The Migos rapper took to Instagram recently with a trailer promoting an upcoming documentary and album, and close to the end, Cardi can be seen giving birth to her daughter, Kulture.
It's not clear what the documentary and album will be about, or even if the record is Offset's effort or with his rap group, Migos, but the post indicates that both will be released on February 22.
The clip is a compilation of shots from Offset, 26, in the studio, on tour with Migos, and just generally going about life.
It wraps up, however, with a never-before-seen video of Cardi, 26, surrounded by medical staff and family in the delivery room.
Everyone soothes the "Money" rapper and encourage her to push as she shrieks in pain. The camera then zooms on Offset standing to the side in a hoodie, looking seemingly confused and horrified.
The two seemed pretty cozy on Sunday evening when they attended the Grammy Awards hand-in-hand.
Cardi and Offset welcomed their daughter last July after a secret wedding in September 2017, and have been very protective of their little one's privacy.
The recent Grammy winner did not share a full-face photo of Kulture until last December, significantly one day after she announced her split from Offset.
On December 5, 2018, Cardi shocked fans with the news that she and Offset are no longer together and implied that she was considering divorce.
"I've been trying to work things out with my baby father for a hot minute now and you know we're really good friends and you know we're really good business partners," the rapper said on her now-deactivated Instagram page. "He's always somebody that I run to to talk to, and we got a lot of love for each other, but things just haven't been working out between us for a long time."
A few weeks back, Cardi denied reports that she and Offset were back together, but the two seemed pretty cozy on Sunday evening when they attended the Grammy Awards hand-in-hand.
The couple made their relationship status quite clear with some tongue-licking action on the red carpet, and when Cardi came up to accept her award win for the Best Rap Album, she held on to Offset's hand the whole time.
We're sure fans can't wait to see more of that delivery room footage Offset just teased.
Please fill in your e-mail so we can share with you our top stories!