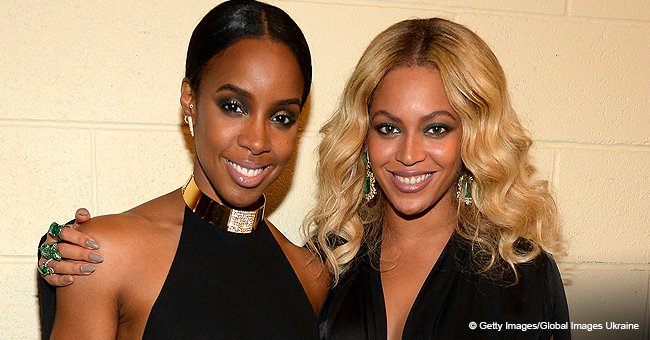 Beyoncé shares sweet throwback pictures of Kelly Rowland on her birthday

Kelly Rowland is one of her longtime friends, and Beyoncé Knowles made sure to celebrate her pal/former bandmate with a trip down memory lane and some touching words.
Every Beyoncé fan on Instagram knows that most of her posts come without captions, so anyone that comes with is considered pretty important.
Earlier today, the "Lemonade" singer took to social media with several throwback shots of Rowland in honor of her 38th birthday.
The first picture was a yearbook black-and-white shot of little Rowland grinning from ear to ear in a graduation gown, cap, and scroll.
Rowland would later move in with the Knowles' because of a family-related issue.
In the second photo, Knowles and Rowland, much younger, feasted on what looked like chicken wings.
There was also a picture of the two girls pulling off a professional photo shoot and another of them goofing around. The last image shows Knowles carrying Rowland on her back as the two giggled adorably.
Knowles' beautiful caption read:
"Happy Birthday Kelly! I love you Deep Deep. BIG deep. Me and you, us never part, Makidada. Walking through them middle school hallways like 'Rollin Rollin Rollin.'"
The "Lemonade" singer has one of the largest social media followings, and many followers showed their love for Rowland in the comments. Others could not help admiring the sisterly bond between the ladies.
"Awww [you're] like peanut butter & jelly; never apart," gushed one user. "Happy Birthday Rollin."
"Happy birthday Kelly. God bless you with many more years," chimed in another.
Rowland and Knowles, 37, reportedly first met in 1992, when Rowland became a member of Girl's Tyme, the music band that morphed into the now-defunct Destiny's Child. Knowles was also a member of the group and her father, Matthew Knowles, managed them.
Rowland would later move in with the Knowles' because of a family-related issue and the two friends went on -- as part of Destiny's Child which included a third member, Michelle Williams -- to bless the world with several classic hits.
The "Dilemma" singer also paid tribute to her special day with a set of Instagram photos. She looked glamorous in a green silk blouse and canary yellow pants that framed her pert derriere perfectly.
In one of the pictures, Rowland posed on a raised platform at the beach as she stared at the camera through clear sunglasses.
"Am feeling extremely blessed to see another year!" she wrote in the caption, adding the hashtag #grateful.
The Grammy winner later shared a short clip in which she blew out a birthday candle.
Happy birthday, Kelly Rowland!
Please fill in your e-mail so we can share with you our top stories!