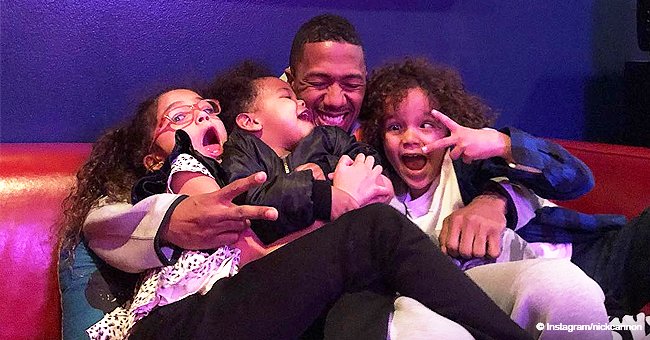 Nick Cannon proves he is the best dad, hugging all of his 3 kids in precious photo
Nick Cannon is the proud dad of three beautiful kids, and he enjoys spending time with them in between his hectic work schedule. In a recent pic shared to Instagram, the TV host shows off his brood as he embraces all the children at once.
Nick Cannon can't stop gushing about his children, twins Monroe and Moroccan, 7, whom he shares with ex-wife Mariah Carey; and son Golden, aged 1, from his relationship to former pageant queen Brittany Bell.
The "Masked Singer" host recently took to Instagram to share an adorable pic that depicts him sitting in a couch hugging his three kids, and all of them were having a blast. Monroe and Moroccan were captured making funny expressions, while Nick and Golden have big smiles on their faces.
"Definition of Happiness!!! Find you a REAL Squad that won't let you down! #NcredibleGang," Cannon captioned the family portrait.
Is not rare for the siblings to spend time together since Nick has mastered the co-parenting situation with both of his exes. The secret, he says, is putting the children's well-being first.
"You put them first, and you step back and become selfless in making decisions, and it's pretty easy," he told US Weekly.
A few weeks ago, Cannon melted hearts after sharing a video of Monroe teaching young Golden how to read. The girl showed her little brother some flash cards with simple words, as the 1-year-old proved he's a genius baby, correctly reading the cards at such an early stage.
The former "America's Got Talent" presenter told ET last year that the twins love to hang out with Golden and have taken their role as older siblings seriously.
"They love hanging out with him, and it is almost like they are more concerned about him having fun than them having fun," he said. "They are always trying to make them laugh, and he is walking now, so they are trying to get him all the toys."
"Watching that whole older sibling thing take place, they understand the responsibility of it. They understand that they can teach him things, so it is really cool."
Nick has been splitting his time between his parenting duties, hosting Fox's "Masked Singer," and replacing Wendy Williams on her talk show as she takes a long break from TV due to complications with her Graves' disease.
While Cannon and Williams have had a rocky relationship, he says he has nothing but love for the "queen."
Last December, Williams came under fire after she referred to Golden as an "oops baby." At the time, Nick clapped back with class by sharing a video of his smart baby reading more flash cards, and captioned it:
"Got another Genius on my hands!!! The Golden Child! No oops over here @wendyshow LOL My guy is brilliant! Reading at the age of 1!! #Genius," he captioned the clip.
Golden's mother, Brittany Bell, also made it clear that her son was not an "oops baby" by sharing a couple of maternity pics and captioning them "The honor of bringing life on earth is definitely not an oops."
Please fill in your e-mail so we can share with you our top stories!