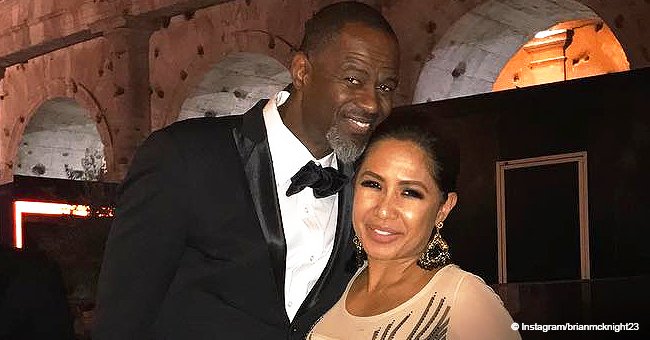 Brian McKnight's new Filipina wife screams with joy as he gives her $150K G-Wagon for her birthday

R&B singer-songwriter Brian McKnight, recognized for his strong falsetto, took to Instagram to share a video of his wife's reaction after getting a car as a gift.
In the clip, Leilani Mendoza, from the Philippines, appeared wearing a red bathrobe while looking at the couple's garage and screaming out loud. Then, she turned to Brian, who was smiling at her, and gave him a big hug.
The man said, "happy birthday baby," and kissed his wife, who couldn't fight the tears back. A couple of seconds later, the singer said, "I promised you," and urged Leilani, who is a neurosurgeon, to give a closer look at her gift.
THE SURPRISE
Once the lady approached the vehicle, it was evident why she was so excited. Her birthday present was a $150,000+ 2019 Mercedes Benz G-Wagon. In the caption, Brian revealed that Leilani always said that was her dream car, so he bought one for her.
As soon as he uploaded that clip, his followers took to the comment section to share their thoughts.
"OMG!!! That reaction was the best!! Happy Birthday Girl! You are going to look wayyy too fly," [sic] pointed out one user.
"Awww, that is so sweet! Many more blessing to the both of you," [sic] wrote a second follower.
"Happy Birthday beautiful Leilani!!! You deserve it girl!!! Love love surprises. Yay!!! Also love that new gift. You'll look wonderful in it!!! God bless you all your days. Perfect surprise Brian!!!" admitted another person.
Soon after sharing his wife's reaction to the surprise, the singer uploaded another clip showing Leilani driving her G-Wagon for the first time. The lady was still excited and drove the beautiful vehicle around the block.
THE COUPLE'S RELATIONSHIP AND CHILDREN
Brian and Leilani started dating in 2014. Three years later, they announced their engagement. On December 29, 2017, the couple tied the knot at Oheka Castle Hotel & Estate in Huntington, New York.
Before marrying the singer, Leilani was in a relationship with another man, with whom she had two children that usually appear on Brian's social media. Combined with the singer's two sons, the couple has a big, blended family.
In Brian's case, he and his previous wife, Julie McKnight, share two sons, Brian Jr. and Niko, who posed with the current couple on their wedding day dressed in elegant black suits evidently happy for their father's romantic life.
Both Brian Jr. and Niko are adults nowadays. The former even has a son and works in the music industry, too, while the latter found his passion in photography, working for celebrities such as rapper Ty Dolla Sign and NBA star Jay Williams.
Please fill in your e-mail so we can share with you our top stories!