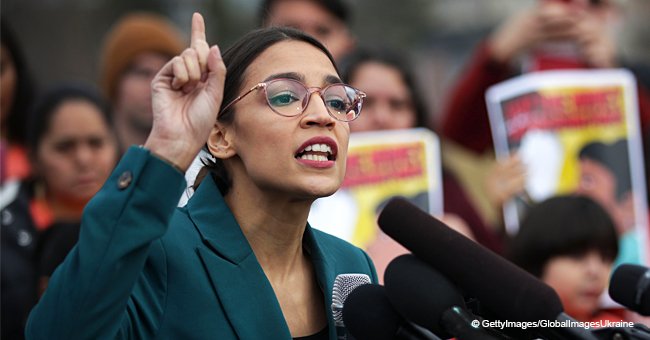 Alexandria Ocasio-Cortez is going to block President Trump's national emergency

President Trump declared a national state of emergency as Alexandria Ocasio-Cortez vowed to fight him every step of the way, and she is not the only one.
In his quest to gather enough funding for his border wall, the move in declaring a national state of emergency on Frida bypassed the need for Congress' approval. Congress did approve some money, but it was far less than he sought.
Now Trump will yield his power by using executive action to get the required funds from federal military construction and counterdrug efforts for his wall.
However, Alexandria Ocasio-Cortez and Joaquin Castro teamed up in an effort to stop the emergency declaration. The two Republicans plan to introduce a bill to end the declaration and is reaching out to others to build support.
A Democratic aide confirmed that Castro and Cortez are working together and added, "We've got people flooding in to support this." The Representative for New Jersey's 8th Congressional District, Albio Sires also announced his support:
It could be a while before Cortez and Castro would be able to introduce such a counter bill. The House adjourned Friday morning and will spend next week in recess.
Pro-forma sessions during the coming week will be conducted by the chamber, and allow for the introduction of bills. Early on February 15, Cortez confirmed their plans on Twitter as she wrote:
In a statement on February 14, Castro shared his readiness to do what he can to counter the emergency declaration and said:
"If President Trump declares a national emergency to fund his border wall, I'm prepared to introduce a resolution to terminate the President's emergency declaration under 50 U.S.C. 1622."
Without mincing words, Castro continued:
"President Trump would unconstitutionally usurp congressional authority by declaring an emergency based upon unfounded hype rather than any substantive emergency."
In a recent post by Nancy Pelosi, she attached a video clip where Trump stated that "he didn't need to" call a national state of emergency:
The latest move by President Trump has legal challenges coming from all angles almost guaranteed. In a statement, the director of Immigration and senior counsel for the Niskanen Center, Kristie De Peña said:
"America is governed by the rule of law and the separation of powers. President Trump's threat to declare a national emergency would violate both of these."
On February 14, Sarah Huckabee Sanders, the White House press secretary said that the administration was "very prepared" for legal action and added:
"Let's hope we don't have an additional national emergency or humanitarian crises."
A January poll undertaken by Quinnipiac University had some interesting results. Two-thirds of Americans opposed getting needed funds for Trump's wall through an emergency declaration, of which over a quarter being Republicans.
A poll done by Fox News added onto the findings of the Quinnipiac University poll and showed 20% of people that voted for Trump in 2016 oppose such a move.
On February 11, Trump had his first proper campaign speech for 2020 elections in El Paso, Texas. Cortez' latest Green New Deal came under Trump's crossfire when he chose to mock a line taken from an unofficial page of FAQs about the deal.
The line stated that lawmakers planned on "net-zero" emissions in 10 years rather than zero emissions, "because we aren't sure that we'll be able to fully get rid of farting cows and airplanes that fast." During his speech on Monday night in El Paso, Trump said:
"I really don't like their policy of taking away your car, of taking away your airplane rights, of 'let's hop a train to California,' or you're not allowed to own cows anymore! It would shut down American energy, which I don't think the people in Texas are going to be happy with. It would shut down a little thing called air travel. How do you take a train to Europe?"
Even though the Green New Deal is not about any of the things Trump referred to, the deal received little support from Congress. Some more liberal members on the Democratic side support the deal while leadership hasn't taken much interest.
Nancy Pelosi, House Speaker, spoke with Politico recently and said Cortez' deal would be "one of several or maybe man suggestions that we receive" on how to deal with climate change.
On February 7, Cortez explained how campaign finance laws run in simple terms, and soon became the "most viewed video of any politician on Twitter."
Please fill in your e-mail so we can share with you our top stories!