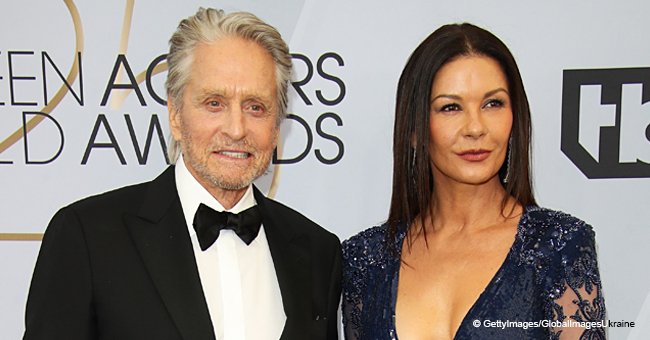 Michael Douglas and Catherine Zeta-Jones spent the holiday dancing with kids in an adorable video
Michael Douglas posted a lovely video of him and his family spending some quality time dancing and enjoying each other's company while away on holiday.
With the all too common horror stories of Hollywood parents failing in their responsibilities to their kids, it's refreshing to see family time done right.
Douglas clearly enjoys spending time with his family after all he starred in "It Runs in the Family" a movie that quite unusually started three generations of the Douglas family.
Kirk Douglas, Michael'slegendary father as well as his son Cameron and daughter-in-law all co-starred in the movie.
In the video posted on Instagram Michael can be seen dancing with his lovely daughter, Carys, while his wife Catherine and his son show considerably more dancing prowess in the background.
Baby Lua Izzy will keep Michael and Catherine on their toes with their kids almost ready to leave the nest.
Michael Douglas clearly isn't letting his age stand in the way of spending time with his kids, and he'll need all that energy having become a grandfather last year.
His son Cameron from his previous marriage had a beautiful baby girl with his girlfriend, Viviane Thebes.
Baby Lua Izzy will keep Michael and Catherine on their toes with their kids almost ready to leave the nest.
Troubled Cameron Douglas was recently released after he was convicted of drug possession but is now seemingly focused on his family.
Cameron, Michael, and Kirk share more than a slight resemblance and looking through the pictures following the birth of their child there can be no mistaking their family resemblance.
Lua Izzy got the name Izzy in honor of her grandfather Kirk Douglas' birth name is Issur Danielovitch but the name Izzy eventually stuck.
Douglas has a busy few months ahead of him. He's taking the producer's seat on "Starman," and will also serve as executive producer on "Ratched."
"Ratched," a TV series, is currently being filmed and is slated for release in 2020, while a release date for "Starman" has not yet been confirmed.
His most recent on-screen appearance was as Sandy Kominsky, in nine episodes of the 2018 TV series, "The Kominsky Method."
Please fill in your e-mail so we can share with you our top stories!