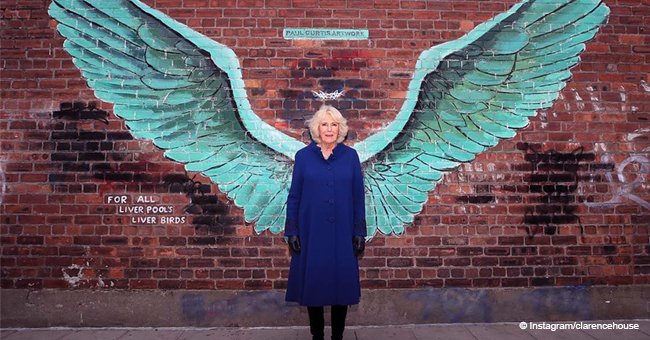 Camilla looks radiant posing in a bright blue coat and knee-high boots near Liver Bird wings

The Prince of Wales and the Duchess of Cornwall visited Liverpool last week and the Duchess posed in front of the Liver Bird wings.
A photo the duchess was shared on Clarence House's official Instagram account and showed the duchess standing by the iconic street art piece.
Clarence House confirmed that Camilla met with the street artist, Paul Curtis, on her royal visit to Mersey Side in Jamaica Street.
According to the caption, Camilla also "found out about the Baltic Triangle's regeneration through young entrepreneurs.
The 70-year-old duchess, ever the style icon, chose a vibrant blue outfit for the day and matched it with knee-high black boots and gloves.
The royal couple also visited the Victoria Gallery and Museum at the University of Liverpool and met with the Irish President, Michael D Higgins.
Their trip also included a meeting with the late Nelson's Mandela's daughter, Dr. Makiziwe Mandela, and granddaughter, Dr. Tukwini Mandela.
Dr. Makiziwe donated several of the struggle hero's drawings, which can be seen in a permanent display at St. George's Hall.
After that, they headed over to the Royal Albert Dock where they chatted with students ahead of the Dock's 175th anniversary.
Camilla, who had always valued the importance of reading and writing, is a patron for several organizations, including the Book Trust and Beanstalk.
The Duchess of Cornwall has been married to Prince Charles since 2005, and made headlines after the public opinion on Prince Charles's kingship was made known.
After a poll, many British citizens said they'd prefer if Prince Charles steps aside and allow Prince William to be crowned as king instead.
At the time, Camilla blamed Duchess Catherine for the turn of events and adamantly believes that it is Prince Charles's destiny to become king.
The Queen doesn't have the power to make that decision. According to the 1701 Act of Settlement, only a direct successor of the reigning monarch can take the throne.
The successor must also be a protestant. This rule favors Prince Charles as the heir to the throne, and the Queen cannot change the law. Barring any unforeseen circumstances, Prince Charles will be King.
There is always the possibility that Charles could abdicate, allowing Prince William to rule as King. Critics cited the abdication of King Edward VIII when he chose to marry a divorcee.
If Prince Charles abdicates, there is still the possibility that Prince William might not be ready to become King just yet. He is, after all, a father with two young children and a third one on the way.
Prince William might choose to use the following decade to focus on his growing family and social responsibilities, before donning the crown and taking the throne.
Please fill in your e-mail so we can share with you our top stories!